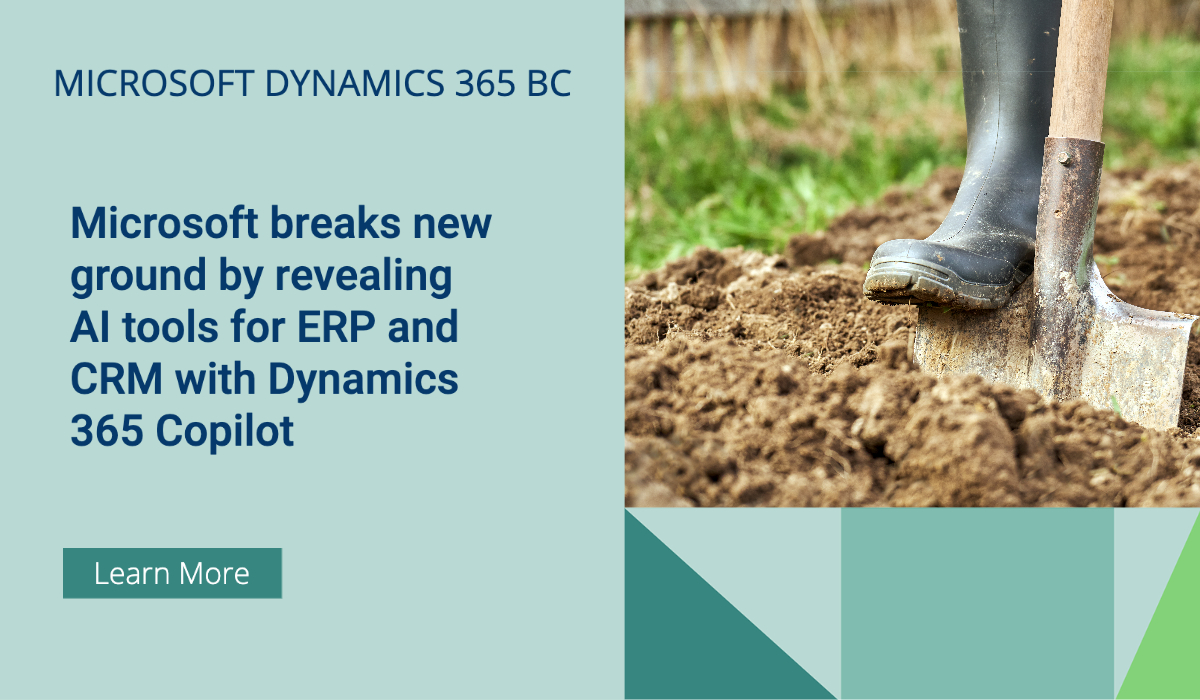 Microsoft breaks new ground by revealing AI tools for ERP with Dynamics 365 Copilot
Microsoft has revealed plans for a wide-ranging set of new Artificial Intelligence-based tools for their Dynamics 365 ERP and CRM applications. Branded as Dynamics 365 Copilot, the actual capabilities will vary depending on the product. Copilot will include natural language queries, email and chat suggestions for customers, personalised email drafts to suppliers and much more.
Microsoft revealed their plans to add AI-based email reply authoring to Viva Sales in February 2023. The new tools were built using Azure OpenAI Service and ChatGPT. Those capabilities, now referred to as Viva Sales Copilot, are now generally available, according to Microsoft's Emily He.
In a recent blog, the Microsoft Vice-President for Business Applications marketing wrote:
'For example, a seller can generate an email that proposes a meeting time with a customer, complete with a proposed meeting date and time based on availability on the seller's Outlook calendar. Sellers will also be able to rate the AI-generated content. And another Viva Sales Copilot feature has reached public preview: the ability to draft a recap of a call with action items and follow-up dates, based on CRM and meeting data. Microsoft also has a range of the Dynamics 365 Copilot tools planned and in preview'.
Dynamics 365 Customer Service Copilot will arrive first in a limited preview with a focus on expediting customer issue resolution. It will create context-specific email drafts or chat responses based on factors including the current live conversation and relevant information from trusted websites and internal documents, including knowledgebase articles and previously resolved cases.
Copilot for Dynamics 365 Customer Insights will allow marketers to 'use natural language to explore, analyse and understand customer segment sizes and preferences'.
It will introduce two new capability areas, which He indicated are in public preview today. A tool called Query Assist uses Azure OpenAI Service 'to save time creating or enhancing segments'. The other is a content creation tool that will allow a marketer to provide Copilot 'with up to five key points to get across in the email. The content ideas capability uses Azure OpenAI Service to generate a set of text suggestions'.
Copilot for Dynamics 365 Business Central will offer AI-generated product descriptions 'that will be tailored to your brand using a product's title and key attributes, such as colour, material and size'. It is a capability that could be especially useful when there are dozens or hundreds of similar products with varying attributes, he suggested.
These are just a small number of examples of what Microsoft will do as their first steps using ChatGPT in combination with Dynamics 365 solutions. You should definitely stay tuned if you are interested in understanding what AI in combination with Dynamics 365 can do for your organisation.
Are you curious about how Dynamics 365 Business Central can help your company?
RECENT POSTS
admin
For companies trying to keep up with the latest technological developments, it can be challenging to determine when it's time to switch and embrace new software systems. Is your organisation ready for this [...]
admin
What is 'failure' in an ERP project? According to PROSCI, a global leader in change management, it can mean being unsuccessful in achieving your goals, neglecting to do something or ceasing to work [...]
admin
Proposals are the first legal documents in an average selection process. These documents give you insights into your out-of-pocket costs for the various aspects of an ERP implementation. Proposals also give you indications [...]