At Brookland Solutions, we want to help you find the best ERP solution for your business. On this FAQ page, you'll find the answer to the most frequent questions that we receive.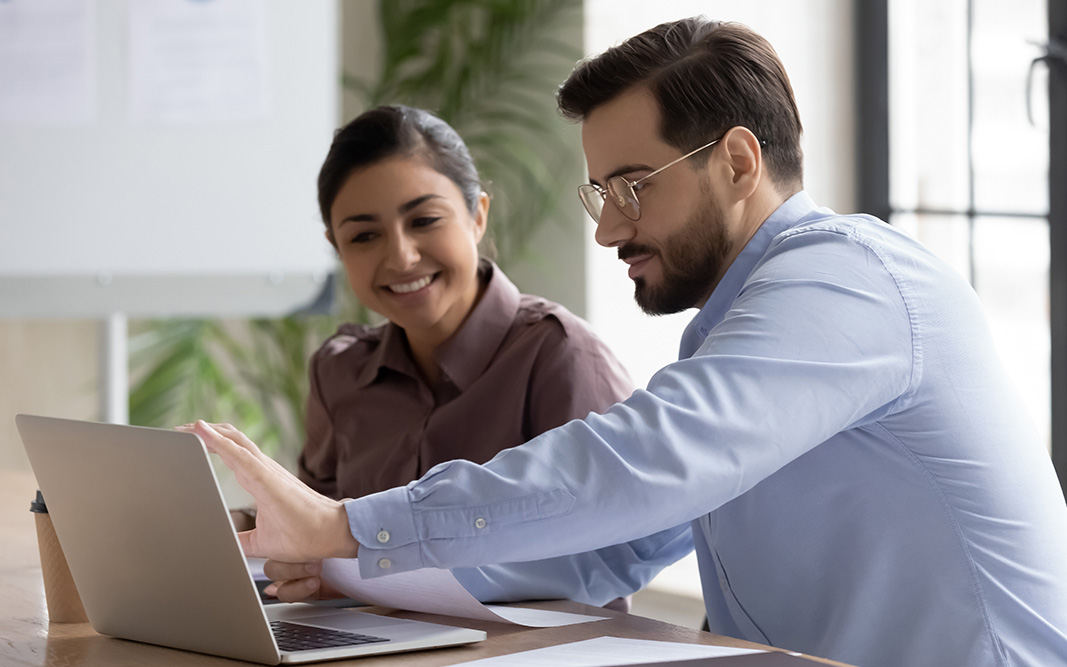 What is Microsoft Dynamics 365 Business Central?
Microsoft Dynamics 365 Business Central is a type of enterprise resource planning (ERP) software. An ERP helps a company integrate the management of main business processes into one centralised system. It can help a business to boost sales, efficiently complete projects, and increase financial performance.
Business Central helps a company connect all its teams using a single software solution.
How does Dynamics 365 Business Central compare to Dynamics NAV?
Microsoft Dynamics 365 Business Central is a newer, improved version of Dynamics NAV. It offers the same functionality in a more user-friendly system. Perhaps the most important difference is that Business Central can be a cloud-based ERP solution, while Dynamics NAV is only an on-premise ERP solution. Business Central is accessible anytime, anywhere – making it perfect for today's fast-paced mobile business environment.
How does Dynamics 365 Business Central compare to Dynamics 365 Finance and Supply Chain Management?
These are similar software solutions with some overlapping features, and both are cloud-based. Business Central is a cloud-based ERP solution built on the Dynamics NAV code base, while Dynamics 365 Finance and Supply Chain Management are dual programs that work individually or together, and are built on the Dynamics AX code base.
Dynamics 365 Business Central is the ideal solution for start-ups, small and medium organisations. The system is fully customisable and can grow as your business does.
Can I implement Dynamics 365 Business Central in the cloud?
There are 2 options available to you for installing and hosting Dynamics 365 Business Central: SaaS and On-premise. If you are unsure which option is best for your business, we can advise you on the advantages of each.
Dynamics 365 Business Central in the cloud (SaaS) is hosted on infrastructure that is operated by Microsoft and backed by their Azure Services. With SaaS, you can log in to your system anytime, anywhere and from any device – as long as you're connected to the internet.
What is the difference between deploying Dynamics 365 Business Central on-premises vs SaaS?
Microsoft Dynamics 365 Business Central offers a choice of deployment options: SaaS  and On-premise. When you host Business Central on-premise, you'll have more control over the software. This could be on servers maintained by you or even on a cloud based server that is provided by a third party (Platform-as-a-Service PaaS). However, a high level of IT expertise is needed to support the system and keep it secure.
Software-as-a-Service (Saas) is a true public cloud. One of the main benefits is that you pay for licenses, hosting, and any other costs in one single package price – making budgeting clear and simple. Updates and upgrades are automatically undertaken by Microsoft, meaning that you are always running on the latest version of the software.
The key benefit of Business Central is its ability to move from one platform to another as your business grows and its requirements change.
What is a Microsoft Partner?
Microsoft is a large global software company with an international partner programme. Because Microsoft Dynamics 365 Business Central provides a wide range of tools that allows businesses to adapt the functionality to their specific needs, Microsoft relies on a large network of partners to help them implement the product.
This allows Microsoft to deliver unique solutions that work for each business. Microsoft Partners specialise in providing software licenses, off-the-shelf-solutions, fully integrated solutions and a wide range of services – including product extensions and add-ons.
How do I know what is the right Microsoft Partner for my business?
There are several factors to consider when looking for a Microsoft Partner. At the most basic level, you need to find a Partner that provides the products and services that you require. You'll want them to have Microsoft accreditation, and you'll want to ensure that they have satisfied customers who are happy with their ERP solution.
You'll want to consider the Partner's area of expertise – for example, Brookland Solutions specialises in Microsoft Dynamics 365 Business Central. Take a look at the Microsoft Partner's implementation strategy, as well as their aftercare and customer service solutions. Finally, get in touch with them to discuss how they might be able to assist your company in the implementation or upgrade of your ERP.