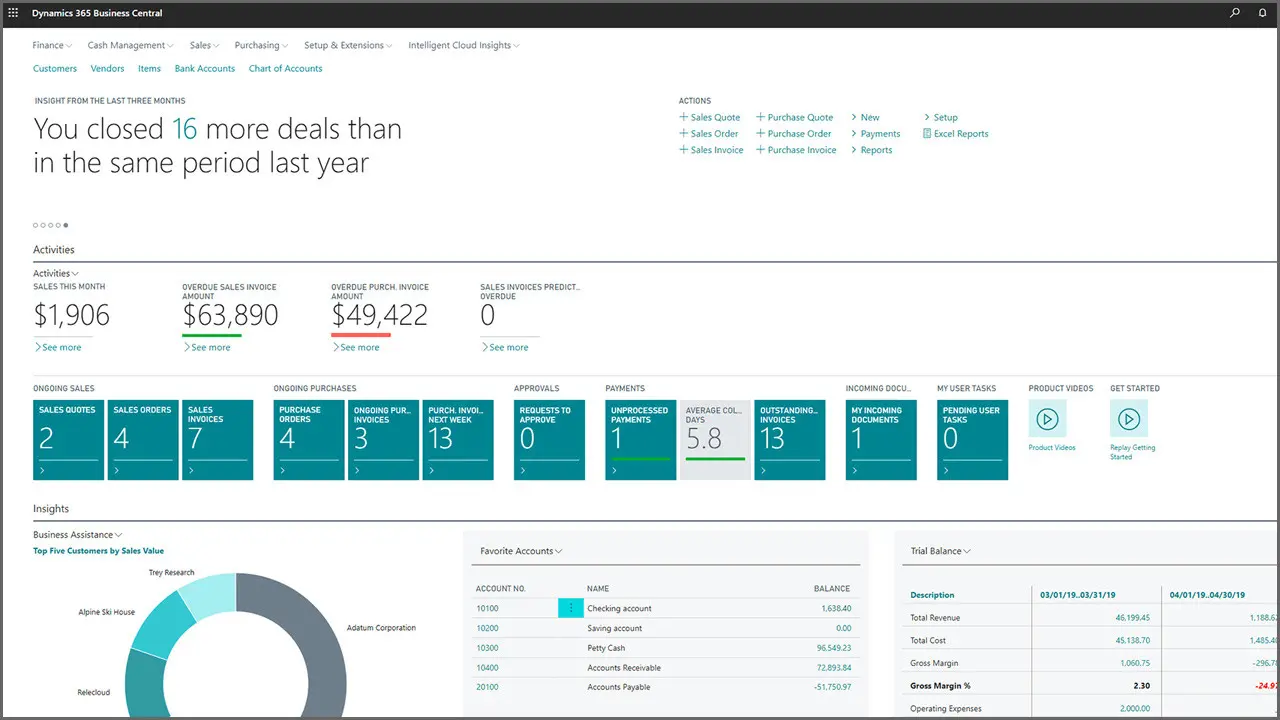 Microsoft Dynamics 365: Glossary of Terminology
AppSource
Microsoft AppSource connects business users to software-as-a-service (SaaS) apps from Microsoft and its partners. Apps are built on top of Microsoft software, such as Microsoft Dynamics or Power Apps. They are designed to extend the functionality of the core software, such as Dynamics 365 Business Central. Typically, apps are designed to serve a specific purpose, e.g. electronic document signing, or to help solve an industry-specific problem, e.g. supply chain distribution.
Many apps offer a free-trial period and are then available to purchase on a subscription basis. Some apps are available for free, such as those directly from Microsoft or Paypal. Think of AppSource like a smartphone app store, but for Microsoft Dynamics 365.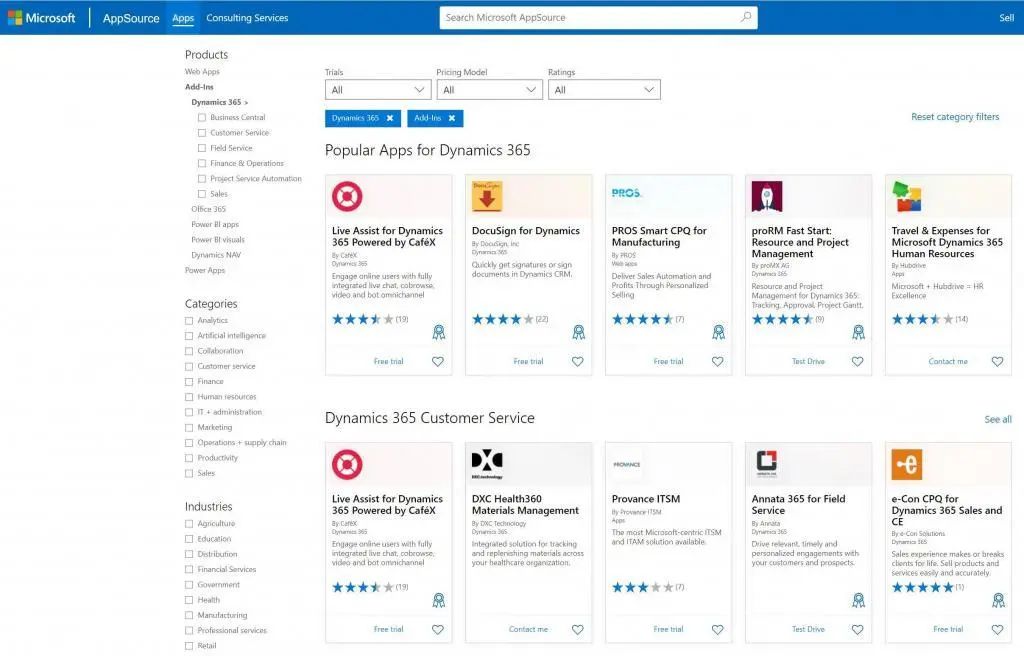 Canvas App
A canvas app is one of two app types available in Microsoft Power Apps. Canvas refers to the way the app is designed and built. A canvas app is designed by dragging and dropping elements onto a canvas. Formulas (like those used in Excel), specify how the app handles data. Code is not needed to create a canvas app. Canvas apps work with data from a variety of sources and can run on a mobile device or internet browser.
Cloud Hosting
Hosting software in the cloud simply means that everything, including the software itself and the data within it, is stored online. You do not physically own the software. The responsibility of managing security measures, issuing updates, and performing data backups is typically down to the host of the software.
If your Dynamics 365 system is hosted in the cloud, you access the system simply by logging in through a web browser or mobile application.
Common Data Service (CDS)
Common Data Service is a secure data storage service. The Common Data Service stores business data in the form as tables, known as entities. The entities connect to Dynamics 365 and Microsoft Power Platform and provide a centralised data storage location. Think of it like a data storage and retrieval system.
Dynamics 365 Business Central
Dynamics 365 Business Central is an all-in-one business management solution. It is designed for small to medium-sized businesses who have outgrown entry-level accounting software or a legacy ERP system. It encompasses functionality for managing finances, operations, sales and customer service. Learn more about Dynamics 365 Business Central here.
Dynamics 365 Sales
Dynamics 365 Sales is a customer relationship management solution designed to enable sales teams to build strong relationships with customers, take actions based on insights, and close sales faster. It helps businesses with managing accounts and contacts, sales cycles, leads and opportunities, and workflows. Learn more about the functionality available in Dynamics 365 Sales here.
Dynamics NAV
Dynamics NAV is what Dynamics 365 Business Central used to be known as before it was rebranded in 2018. The software dates back to 1995 when the first version of Dynamics NAV was released.
Enterprise Resource Planning (ERP)
Enterprise resource planning is used to manage and integrate the important parts of a business. Many businesses use ERP software to help them implement resource planning and integrate all the processes involved with a single system.
Dynamics 365 Business Central is Microsofts ERP software for small to medium-sized businesses.
Model-driven App
A model-driven app is one of two app types available in Microsoft Power Apps. Model-driven refers to the way the app is built. A model-driven app is designed and built by adding components to the app. The components added to the app determine the layout and design of the overall app layout.
A model-driven app can be generated automatically if your data is stored in the Common Data Service and you don't require a customised app design. This design of this app would be generic, however, your business data and processes would be there.
On-premise
On-premise is software and technology that is installed on an organisation's own server or data centre. No elements of the software or data are hosted in the cloud or on third-party servers. You are in complete control of the management and maintenance of the physical hardware and software, as well as the data you hold.
Power Platform
The Microsoft Power Platform is a low code platform comprised of three applications; Power BI, Power Apps and Power Automate. Better analyse and understand data, improve workflow and automate business processes with Microsoft Power Platform. The three applications come together to form an integrated platform.
Power Apps
Power Apps provides an environment for app development without the need for code-writing skills. With Power Apps, you can quickly build applications that are designed for internal, business use only. Apps built using Power Apps are capable of running on a mobile device or browser.
Power Automate
Power Automate is a powerful workflow tool designed to automate manual and time-consuming business processes. It enables users to create automated workflows without the need for coding knowledge. This is because the application runs on a simple point-and-click, no-code flow designer. Hundreds of templates are also available out of the box. Workflows can be created to deliver notifications, sync or organise data, automate approvals and so on.
Power BI
Power BI is a business intelligence and analytics tool that transforms your business data into real-time, actionable insights. It connects to a wide range of data sources, from Excel spreadsheets to Dynamics 365 databases. This enables users to turn masses of data into visual, interactive and digestible knowledge. To provide easy access to insights, Power BI charts can be embedded in Dynamics 365.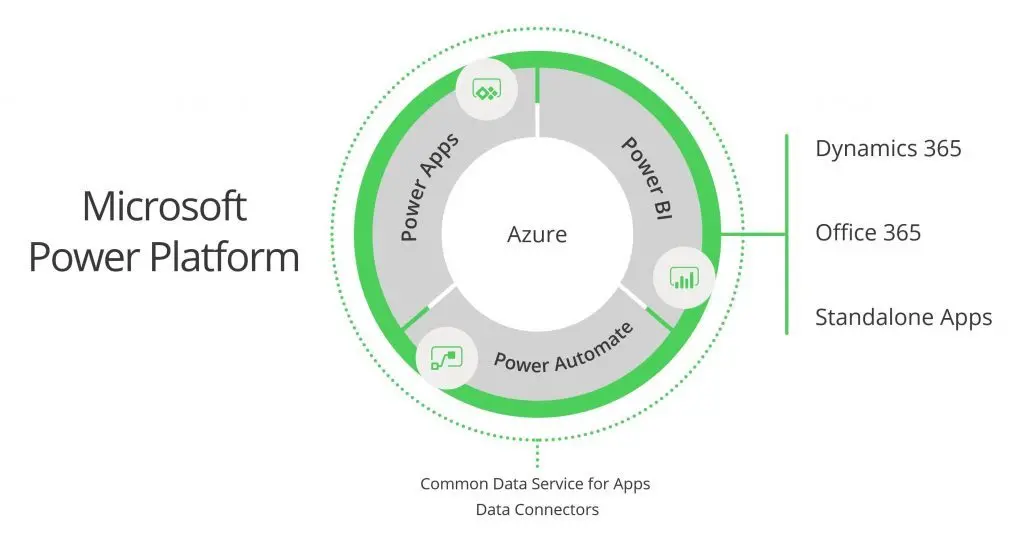 RECENT POSTS
admin
For companies trying to keep up with the latest technological developments, it can be challenging to determine when it's time to switch and embrace new software systems. Is your organisation ready for this [...]
admin
What is 'failure' in an ERP project? According to PROSCI, a global leader in change management, it can mean being unsuccessful in achieving your goals, neglecting to do something or ceasing to work [...]
admin
Proposals are the first legal documents in an average selection process. These documents give you insights into your out-of-pocket costs for the various aspects of an ERP implementation. Proposals also give you indications [...]