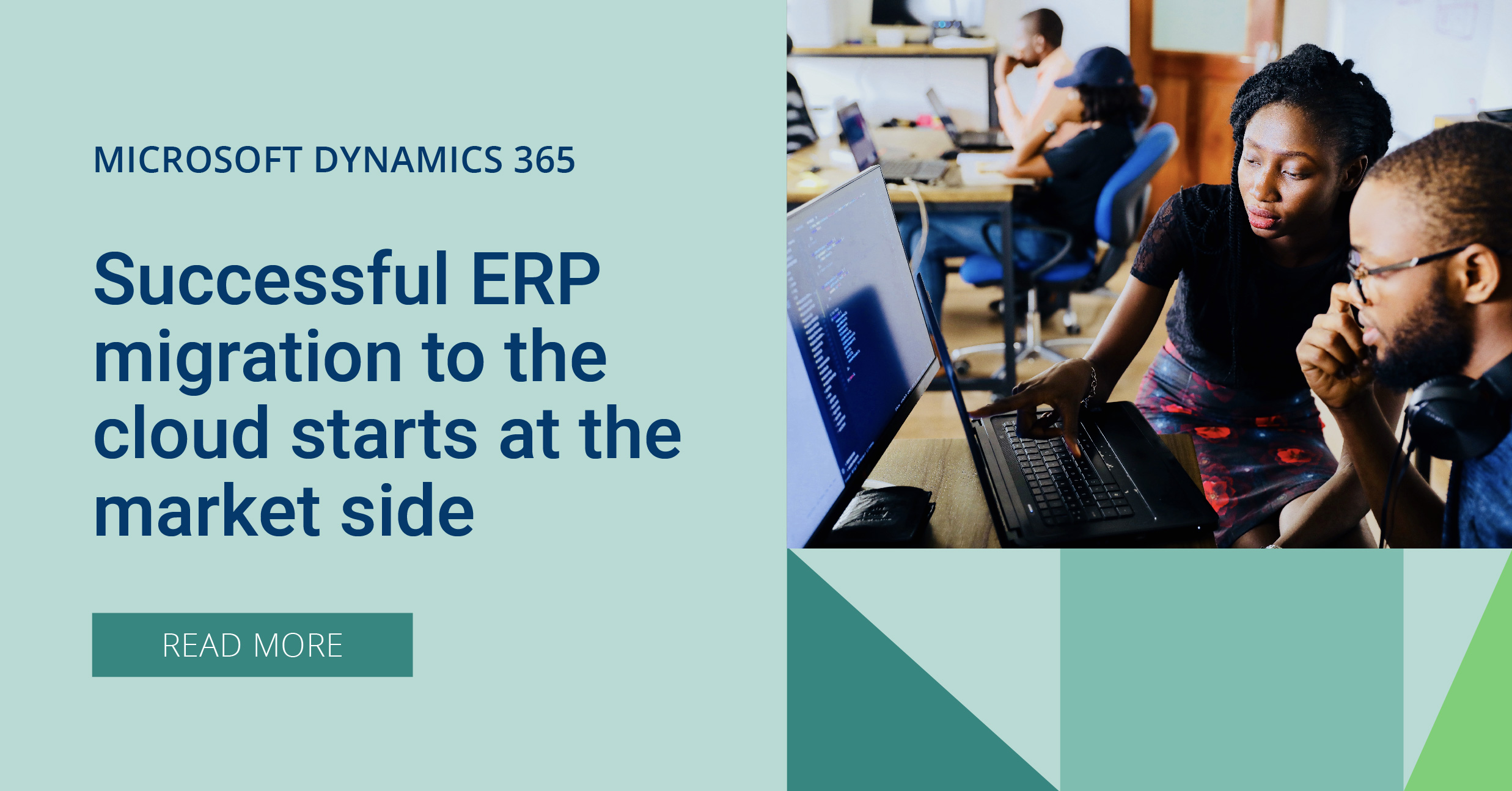 Successful ERP migration to the cloud starts at the market side
These days, many organisations all over the world are considering migrating their ERP solution to the cloud. While there are various reasons for this move, the most frequently mentioned arguments include saving money and ensuring continuous innovation. But the important question to ask is this: how will you, your employees and your customers benefit from these innovations?
If you decide to deploy the new cloud solution based on your current business processes, reports, data and mindset, you run the risk of disappointment. After all, it's like pouring old wine into new bottles – the package changes, but the ingredients don't. If that's the case, how will you start preparations for your migration project?
You might be surprised to hear that the best way to start your migration project is not to begin with technology. Instead, it's much wiser and more effective to start on the market side: with your customers and resellers. How satisfied they are with you, your organisation and your products and services?
If your customers complain or make late payments, do some research to determine why this is happening. When you win, you need to understand what went well. And when you lose, you need to understand what went wrong.
Study the trends in customer expectations and buying behaviour. Take the time to observe your strongest competitors and see how they react to these trends. Set up exit interviews with customers who have left your company and learn where and how you can make improvements within your organisation.
Without a doubt, this type of research will provide you with many insights, and hopefully you and your teams will find it motivating. Research can help you to modernise your business processes and adapt your KPI's, reports and score cards. It can also help you refresh your internal DNA and mindsets and define strong and specific project goals. You'll discover what today's customers expect from you and what they value most – and you'll find out how you can make your customers happier.
After this initial phase, it's important to transform these observations and learnings into tangible goals for your project – and it can be smart to include your marketing colleagues in that discussion. You might decide to strive to become the most customer-centric organisation in your industry.
Obviously, this type of preparation for ERP cloud migration is completely different from the traditional approach. You'll need to mobilize other colleagues, departments and skill sets to find the answers to these questions. But that is precisely what will help you to define ambitious project goals. In addition, you'll involve colleagues and departments early in the project who would otherwise remain at a distance. Or even worse: who would not even be involved at all.
Where will you start preparing for successful ERP migration to the cloud: with technology or with the market?
If you're ready to find the best ERP for your company, we're happy to help. Get in touch.
RECENT POSTS
admin
For companies trying to keep up with the latest technological developments, it can be challenging to determine when it's time to switch and embrace new software systems. Is your organisation ready for this [...]
admin
What is 'failure' in an ERP project? According to PROSCI, a global leader in change management, it can mean being unsuccessful in achieving your goals, neglecting to do something or ceasing to work [...]
admin
Proposals are the first legal documents in an average selection process. These documents give you insights into your out-of-pocket costs for the various aspects of an ERP implementation. Proposals also give you indications [...]