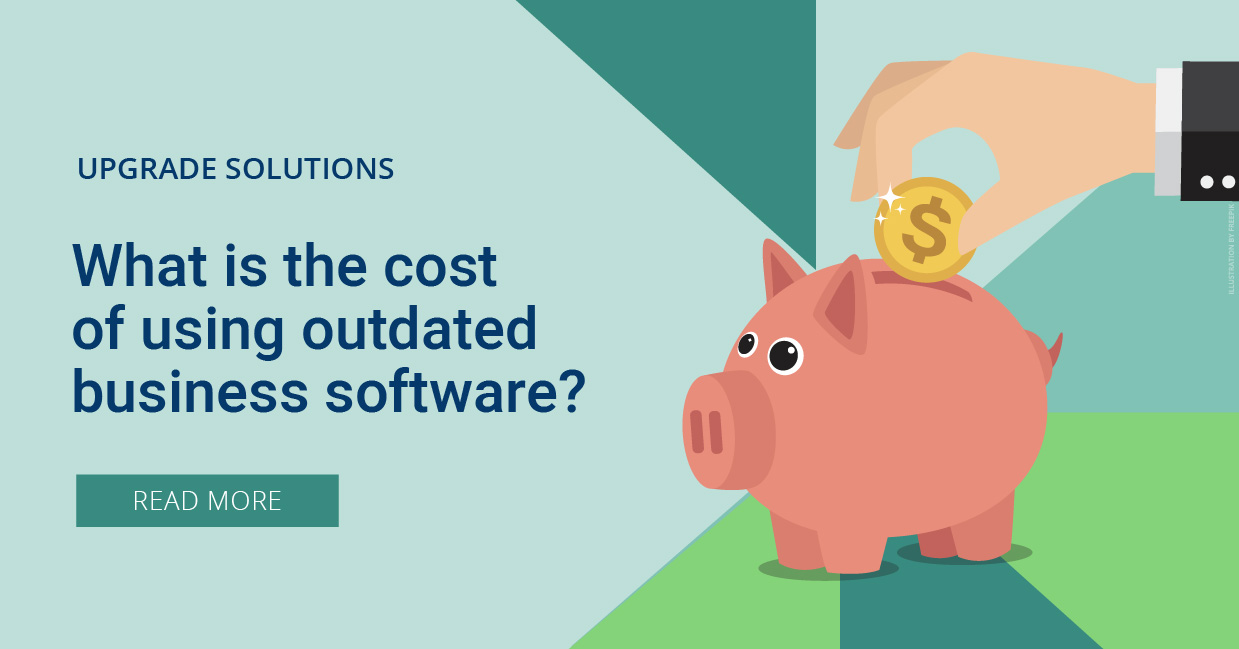 What is the cost of using outdated business software?
All around the world, countless organisations use old, non-integrated, user-unfriendly and / or outdated software solutions to run their businesses. Unavoidably, this leads to inefficiencies in today's fast changing world with demanding and impatient customers.
If this is also relevant for your organisation, then this probably is no news to you. For sure, you are aware of the availability of better solutions. But for some reason, you may feel you are not ready to act yet.
While you are waiting, do you have any idea what the cost is of using those outdated business software solutions?
In the western world, organisations modernise their ERP and CRM solutions every 8 to 10 years. That is either an upgrade or a complete replacement. In some industries, this number tends to increase due to the current crisis. In other cases, it is also due to the fact that many organisations postpone these projects – even if they actually have to act.
So why do companies postpone the modernisation of their business software in the first place?
Multiple reasons apply, varying from the question of who might be to blame for the old solutions no longer being suitable, to acknowledging the complexity and effort the replacement will require. Even the fear of damaging an individual's CV in case the replacement project fails.
An important question to pose is what the potential business impact of this delay is.
While the list of consequences is a long one, we have selected a number of issues that can have a serious material impact on your business:
High cost of local software solutions
Maintaining the current high Total Cost of Ownership (TCO) that unavoidably belongs to the deployment of on-premise software solutions based on your own server hardware and the internal system management.
Disgruntled customer and employees
The cost of your current poor or broken business processes will continue, and go up even further if you do not fix it shortly. This can result in a decrease of customer and employee satisfaction, and eventually in the loss of customers and the departure of employees.
Dependence on senior staff
For your current manual processes, a delayed modernisation makes you dependent on the knowledge and expertise of your senior employees who will leave your company shortly when they retire.
Miss out on cloud-based ongoing innovation
Perhaps the most important issue: missing out on the ongoing innovation that we see in the cloud-based solutions these days. All leading ERP/CRM-vendors have moved their R&D investments to their cloud products. So, if you still run on-premise solutions, this means that the availability of new functionality and innovation will slow down, and eventually stop.
Modernising your business software demands for a serious investment, but continuing the use of outdated solutions can potentially cost you a fortune!
If you have outgrown your software package, now is the time to consider an Enterprise Resource Planning (ERP) solution that is designed for small to medium-sized organisations such as yours, that can connect and unify your business from end-to-end.
As a trusted Microsoft partner, Brookland Solutions' expert consultants can advise, build and implement a Dynamics 365 Business Central solution that is tailored to your goals. For more information, visit https://brooklandsolutions.com/business-central/
Selecting ERP is often purely a matter of emotion, even though as a buyer you like to present things otherwise. Many companies work from a longlist towards a shortlist to make the final choice based on the latter. A relevant question is what you require from the suppliers, phase by phase; and how much time and energy you and your team can dedicate to it.
RECENT POSTS
admin
For companies trying to keep up with the latest technological developments, it can be challenging to determine when it's time to switch and embrace new software systems. Is your organisation ready for this [...]
admin
What is 'failure' in an ERP project? According to PROSCI, a global leader in change management, it can mean being unsuccessful in achieving your goals, neglecting to do something or ceasing to work [...]
admin
Proposals are the first legal documents in an average selection process. These documents give you insights into your out-of-pocket costs for the various aspects of an ERP implementation. Proposals also give you indications [...]