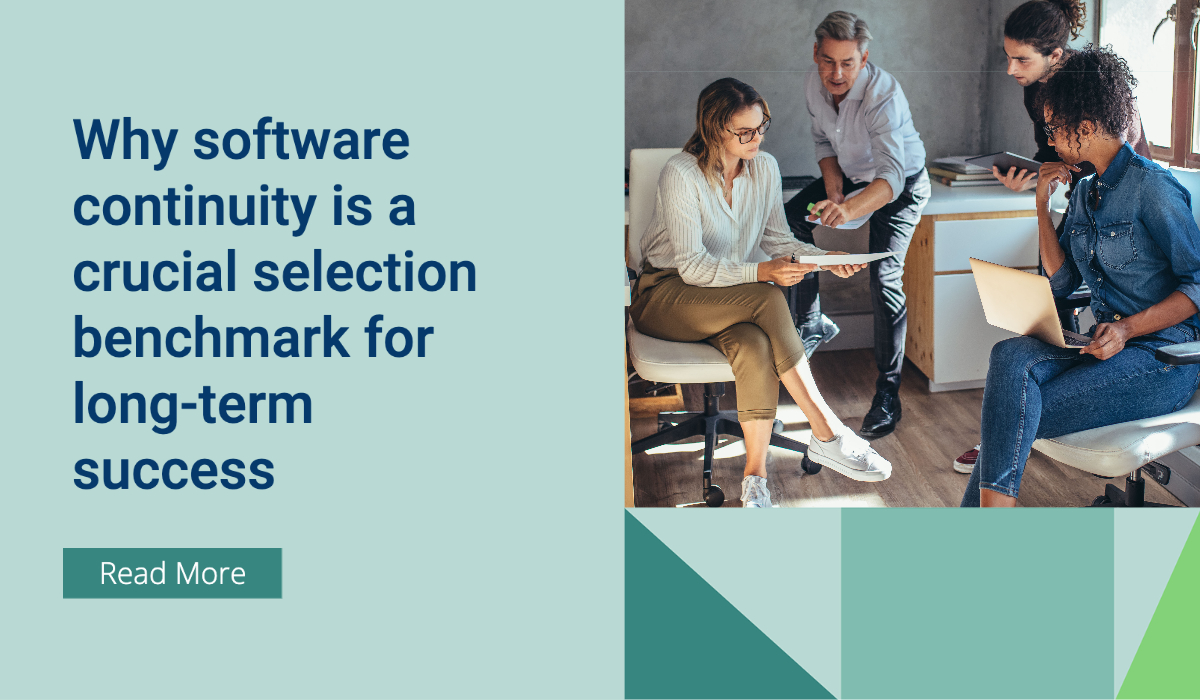 Why software continuity is a crucial selection benchmark for long-term success
Introducing ERP software in organisations is always a risky activity. Implementations can fail, and operations can be disrupted, especially directly after going live. Recently, German ERP vendor SAP quietly introduced an entirely different form of risk.
The ERP giant decided to take a continuous street with their cloud ERP solution Business ByDesign, leaving roughly 10,000 customers in over 140 countries in big trouble. The important question for you is: what are the continuity prospects of (the version of) the ERP system that you are currently using?
Business ByDesign was introduced in 2007 as SAP's first 'native' cloud-based ERP solution. At the launch, SAP promised that companies could use this solution to reduce their ERP operating costs by up to 90%. However, the product came onto the market 2 years later than planned, and market acceptance was much lower than expected.
Both partners and customers were confused by the positioning because Business ByDesign overlapped with other SMB offerings such as All in One and Business One. Since the ambitious sales targets were not achieved, product development has been on the back burner since 2013. Now the curtain is definitely falling: SAP is taking its hands off the product completely.
SAP's Indian service partner HCL technologies are made responsible for the delivery of the bare minimal form of support: security patches and legal updates. But in today's world, this 'support' equals a technological standstill, which means that these customers are forced to select and implement new software as soon as possible – if they can afford it.
But the question remains: will they do business with SAP again?
This case teaches us, once more, the crucial importance of continuity. After all, what good is a well-fitting software solution that is no longer actively supported after a certain time?
Here are some lessons for everybody involved in ERP software selection processes:
The structured research of continuity expectations deserves more attention
This is especially true if you evaluate vendors offering multiple solutions for the same market
Continuity has many different aspects. In the end, the continuity of your internal information provision is all that matters!
Conclusion: by thoroughly questioning and understanding the future of your favourite ERP solutions during the selection process, you'll increase the chance of long-term successful use!
If you would like to discuss moving to Business Central or getting more support for your Dynamics NAV, we would love to help you take your business to the next level. Please get in touch.
RECENT POSTS
admin
Many organisations around the globe find themselves on the threshold of the cloud era these days. Often they have already migrated some of their applications to the cloud, such as productivity tools. [...]
admin
Microsoft is a name that is synonymous with innovation and excellence. The company has been at the forefront of technological advancements for decades, and their enterprise resource planning (ERP) software, Microsoft Dynamics [...]
admin
In the past few decades, customisation in ERP projects has been known to cause many major technical and organisational problems. It can even lead to limiting an organisation in their growth. Even [...]