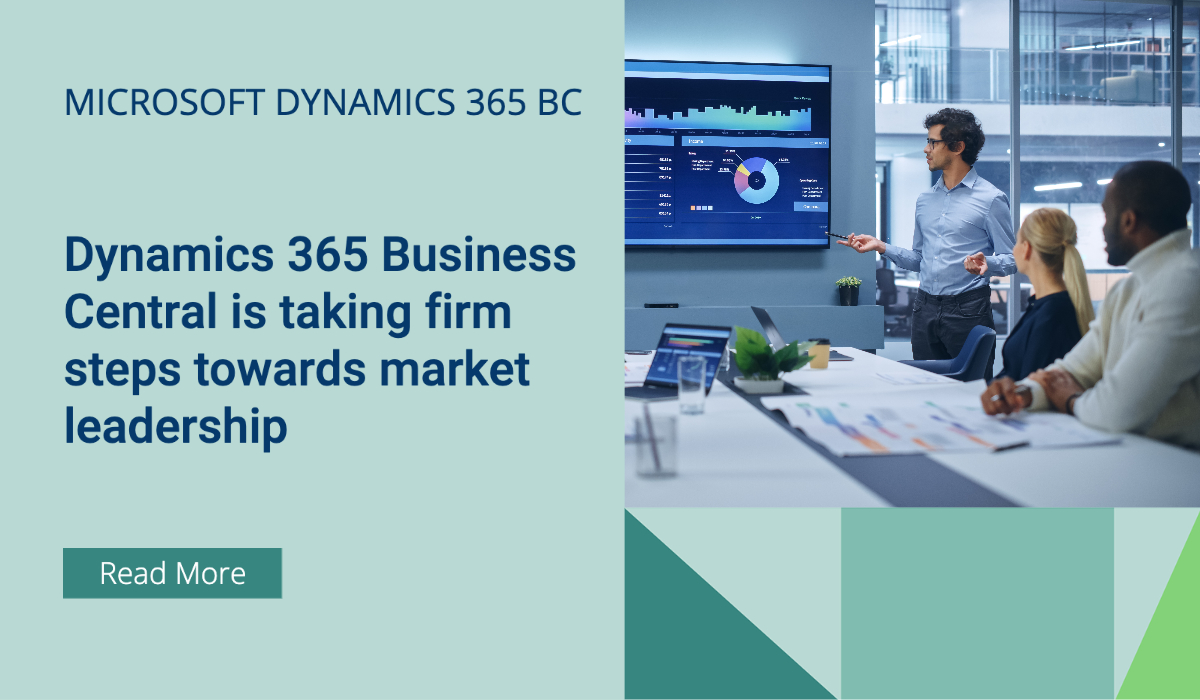 Dynamics 365 Business Central is taking firm steps towards market leadership
No matter whether you're an existing Microsoft Dynamics 365 customer or a potential user, it's always important to know how an ERP solution performs in the market.
After all, ERP software involves major investments in both licenses and process modernization for the medium to long term – and, once made, these choices are not easy to reverse. The annual DIRECTIONS EMEA 2022 event for Microsoft D365 partners, held in early November in Hamburg, proved once again that the D365 Business Central ERP solution and its partner eco-system are on the cutting edge. Microsoft is once again taking firm steps towards its major goal: to become the best ERP solution in the world for SMB organisations.
Traditionally, many ERP implementations got into trouble through customization. Often, this paralysed organizations that kept outdated processes and made it impossible to benefit from the available innovations. With the introduction of Business Central, Microsoft changed this radically and switched to the 'IKEA model' which focused on the advantages of standardization.
Microsoft reported that it already has 3,000 standard solutions (also known as 'extensions') today in its app store, which is called AppSource. That's a growth of 67% compared to just one year ago. Now, there are more apps in AppSource for Business Central than for any other product at Microsoft.
Microsoft also reported a huge growth in the number of partner organisations that sell, implement and support Business Central. Today, there are more than 4,000 of these independent companies active in almost every country around the globe. This gives Business Central customers a wide choice of services, support and specific solutions.
Microsoft continues to invest in the localization of Business Central, which means that the software is adapted to and available for each specific country's requirements. This means different languages and currencies, and also involves differences in local accounting and tax rules.
Microsoft was proud to announce that the number of localized versions has risen from 69 last year to 101 – a growth of 46%! That's 220% more than the current number of localized versions of Dynamics NAV on-premise. All of these versions combined cover more than 80% of the world's Gross Domestic Product (GDP)!
The sum of all this is a continued strong growth in the number of organisations that trust in Dynamics 365 BC for the countless small day-to-day decisions, and also for determining the strategic direction of their organization. Many of these customers also use Business Central as the backbone for their digital transformation processes.
Microsoft reported a whopping 60% growth in the number of customers. And that brings the total to 32,000 customers, making D365 BC the fastest-growing cloud ERP solution worldwide.
Are you interested to learn what Business Central can do for your organization? Contact us today.
RECENT POSTS
admin
For companies trying to keep up with the latest technological developments, it can be challenging to determine when it's time to switch and embrace new software systems. Is your organisation ready for this [...]
admin
What is 'failure' in an ERP project? According to PROSCI, a global leader in change management, it can mean being unsuccessful in achieving your goals, neglecting to do something or ceasing to work [...]
admin
Proposals are the first legal documents in an average selection process. These documents give you insights into your out-of-pocket costs for the various aspects of an ERP implementation. Proposals also give you indications [...]