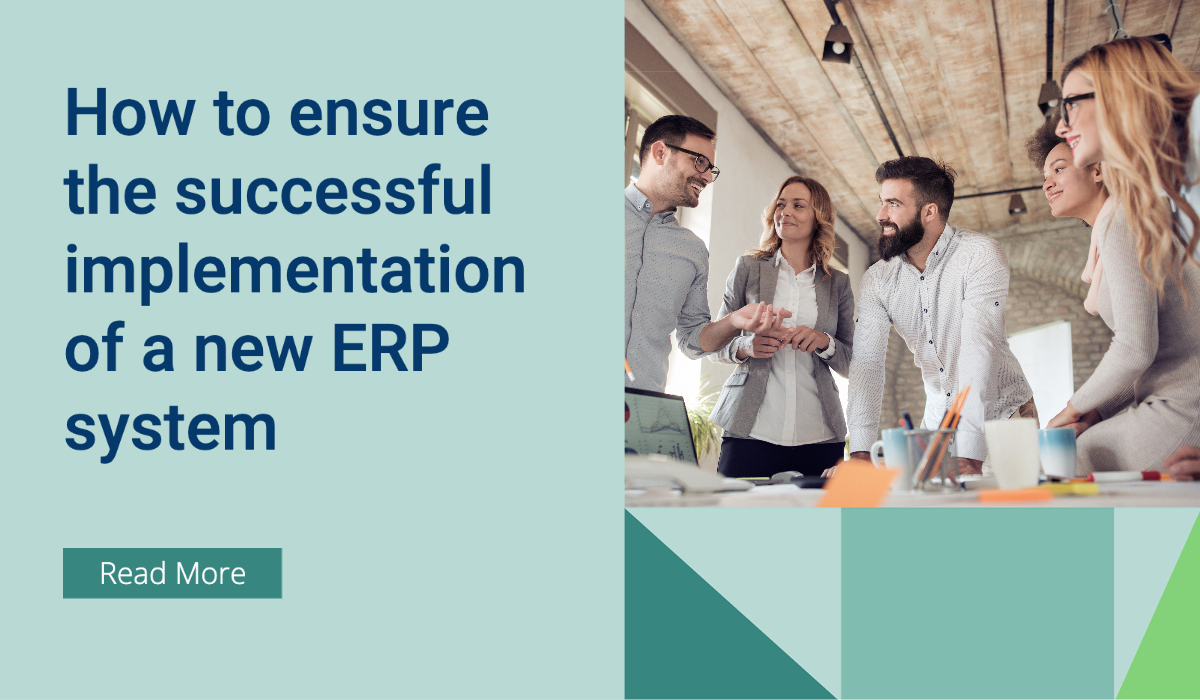 How to ensure the successful implementation of a new ERP system
In today's fast-paced business environment, companies are constantly seeking new ways to improve their operational efficiency and stay ahead of the competition. One of the most effective ways to achieve this is through the implementation of a new Enterprise Resource Planning (ERP) software system.
However, implementing a new ERP system can be a complex and challenging process, and it requires careful planning and execution to ensure success. In this article, we will discuss some of the key factors to consider when implementing a new ERP system to help ensure a successful outcome.
Define your goals and objectives
The first step in implementing a new ERP system is to define your goals and objectives. What are the specific business problems you are trying to solve? What are the key performance indicators (KPIs) you want to improve? What are the business benefits you expect to achieve from the implementation? 
Having a clear understanding of your goals and objectives will help you determine the scope of the project, identify the key stakeholders, and establish a roadmap for the implementation.
Select the right software vendor
Choosing the right software vendor is critical to the success of your ERP implementation. You need to ensure that the vendor has a proven track record of delivering successful ERP implementations in your industry. 
You should also consider the vendor's financial stability, the functionality of their software, their implementation methodology, and their level of support and training. It's important to take the time to evaluate several vendors and choose the one that best meets your specific needs.
Assemble a strong project team
Implementing a new ERP system requires a cross-functional team of experts from different areas of the business. You need to assemble a strong project team that includes representatives from the IT department, finance, operations, sales, and other key departments. Each team member should have a clear understanding of their roles and responsibilities, and they should be committed to the success of the project.
Plan the implementation carefully
The implementation plan is a critical component of the ERP implementation process. It should include a detailed timeline, milestones, and deliverables. You should also identify the critical success factors and potential risks, and develop contingency plans to mitigate those risks. The implementation plan should be reviewed and updated regularly throughout the project to ensure that it remains aligned with the goals and objectives.
Ensure adequate training and support
One of the most common reasons for ERP implementation failure is inadequate training and support. Your employees need to be trained on how to use the new software effectively, and they need ongoing support as they adapt to the new system. 
You should provide comprehensive training to all users, including managers, executives, and frontline employees. You should also provide ongoing support through a helpdesk, training resources, and other support channels.
Communicate effectively
Effective communication is essential for the success of any ERP implementation. You need to communicate the goals and objectives of the project to all stakeholders, including employees, customers, suppliers, and partners. You should also communicate regularly throughout the project to provide updates, address concerns, and celebrate milestones. Effective communication can help build trust, reduce resistance to change, and increase the likelihood of success.
Monitor and measure progress
Monitoring and measuring progress is critical to ensuring the success of your ERP implementation. You need to establish KPIs to track the progress of the project, and you should regularly review those KPIs to identify areas for improvement. You should also monitor user adoption rates, system performance, and other key metrics to ensure that the system is delivering the expected benefits.
Implementing a new ERP system can be a challenging and complex process, but it can also deliver significant benefits to your business. While this type of project may seem daunting, we can help at every step of the way. 
We can help
Learn how we can help with the implementation of your new ERP
Book a Business Central / Dynamics NAV discussion session today.
RECENT POSTS
admin
In today's fast-changing world, it's a bad business strategy to use outdated IT tools. If you go this route, how will your organisation manage to meet the ever-increasing demands of your customers? Earlier [...]
admin
For companies trying to keep up with the latest technological developments, it can be challenging to determine when it's time to switch and embrace new software systems. Is your organisation ready for this [...]
admin
What is 'failure' in an ERP project? According to PROSCI, a global leader in change management, it can mean being unsuccessful in achieving your goals, neglecting to do something or ceasing to work [...]