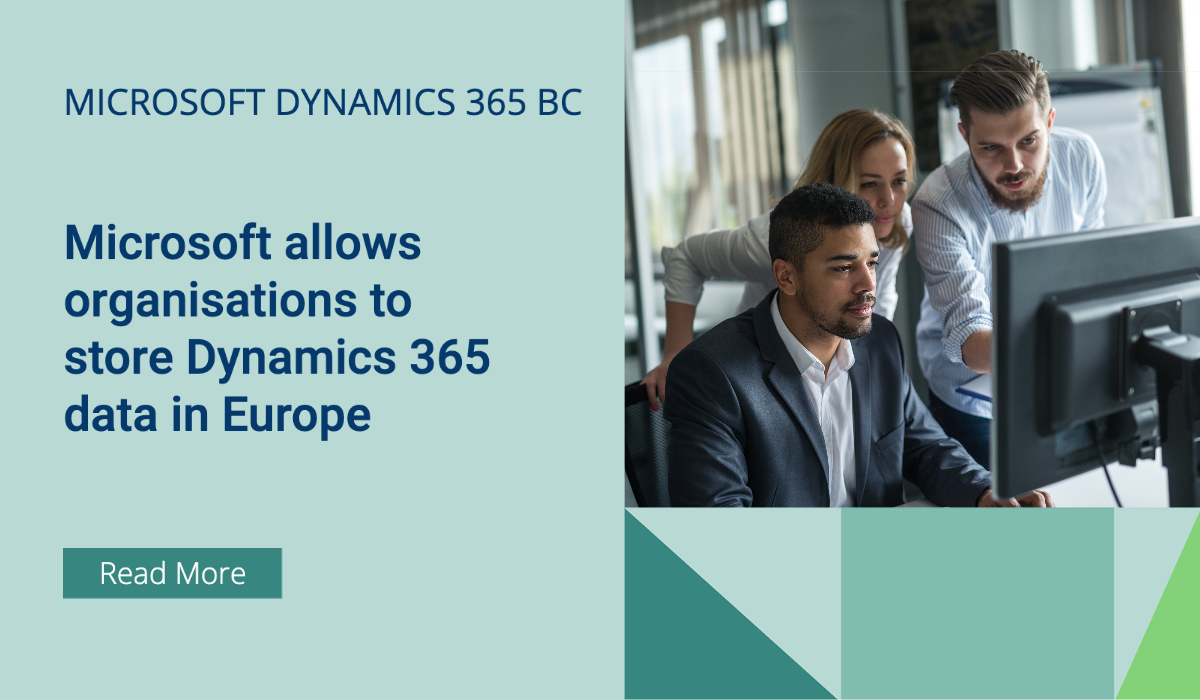 Microsoft allows organisations to store Dynamics 365 data in Europe
Starting on January 1, 2023, Microsoft gave European companies and governments the option to only store their data on data servers in Europe. Until recently, this often happened in other regions such as the United States. But in the US, there is no general legislation for the protection of personal data. 
In the European Union, this is the case with the General Data Protection Regulation (GDPR). Because the UK left the European Union in 2020, the EU GDPR no longer regulates UK data privacy because it is no longer a member state. However, the UK GDPR – which doesn't differ much from the EU GDPR – took effect in January 2020. 
Microsoft adjusted its policy because it was often unclear for European organisations where their data was stored. It was also often unclear whether this is done in accordance with European law. This change will affect Microsoft 365, Dynamics 365, Power Platform and Azure.
In today's global economy, customers continue to look for ways to advance their goals, protect their data and scale for improved efficiencies. To support these changing requirements, Microsoft is committed to providing trusted cloud services that are designed to take advantage of the full power of the public cloud while respecting European values and sovereignty needs.
On January 1st, 2023 Microsoft began a phased rollout of their EU Data Boundary solution to their customers in the European Union (EU) and the European Free Trade Association (EFTA).
Microsoft say that they remain committed to supporting European digital needs. The company offers data residency and proximity in more locations than any other cloud provider, enabling residency options for the entire Microsoft Cloud suite of online services including Microsoft 365, Dynamics 365, Power Platform and Azure.
Microsoft provide their cloud services to customers in nearly every country around the world. To support the requirements of customers across the EU and EFTA, they have opened and are constructing data centres in more than 17 data centre regions in Europe.
Since 2020, Microsoft has announced plans to build 9 new data centre regions and during the past two years, they have made investments exceeding $ 12 billion. That makes Microsoft one of the largest sources of capital investment in Europe's digital future.
Microsoft now offer their current and future European customers the choice and flexibility they need to enjoy hyperscale products at the edge of innovation while also meeting regulatory requirements and industry-specific standards.
This is good news for all current and future Dynamics 365 users!
If you would like to discuss moving to Business Central or getting more support for your Dynamics NAV, we would love to help you take your business to the next level. Get in touch.
RECENT POSTS
admin
For companies trying to keep up with the latest technological developments, it can be challenging to determine when it's time to switch and embrace new software systems. Is your organisation ready for this [...]
admin
What is 'failure' in an ERP project? According to PROSCI, a global leader in change management, it can mean being unsuccessful in achieving your goals, neglecting to do something or ceasing to work [...]
admin
Proposals are the first legal documents in an average selection process. These documents give you insights into your out-of-pocket costs for the various aspects of an ERP implementation. Proposals also give you indications [...]