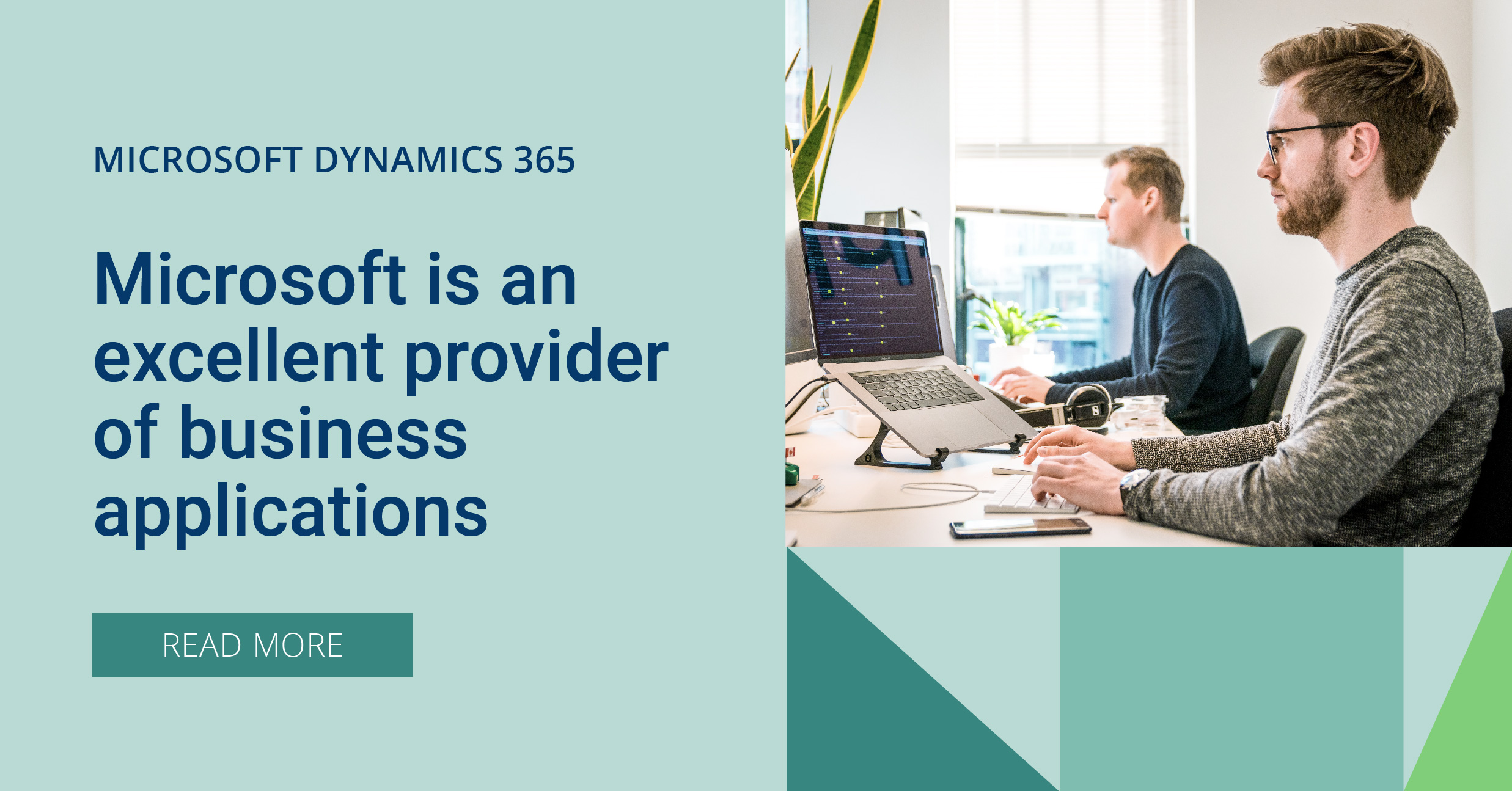 Microsoft is an excellent provider of business applications
Are you working with the right IT vendor for your organisation? Is your current vendor willing and able to continuously innovate? If so, do they have the skills and expertise to develop a fully integrated application platform?
The COVID-19 pandemic taught us the importance of strong, flexible and innovative business applications that can deliver performance and results for any organisation. But there are so many options available, and it can be difficult to make such an important business decision. Here's why we think that Microsoft is the ideal provider of your next generation of business solutions. 
Microsoft offers a fantastic set of applications that will allow you to strengthen the relationship with your customers and run an effective operation. They can also help create a resilient supply chain and improve the financial health of your business.
These solutions are brought together under the umbrella of Dynamics 365 – a solution set that lies at the heart of the intelligent Microsoft cloud platform, functioning as the backbone for your digital transformation initiatives. All Dynamics 365 solutions are available in dozens of localized versions, which is the perfect support if you are internationalising your business.
Microsoft is a partner-driven organisation. This means that the Dynamics 365 solutions are sold, implemented and supported by a large network of individual business partners – such as Brookland Solutions. In this set-up, you combine the strengths and industry knowledge of Microsoft with the specific solutions and the experienced staff of Brookland Solutions. This limits your risks and gives you the opportunity to include products from other Dynamics 365 partners in your solution.
Over the past years, Microsoft transformed their position from a vendor of stand-alone ERP and CRM solutions into a company that delivers a complete and intelligent cloud platform. Unlike other software vendors, Microsoft is in the unique position to offer you a truly end-to-end solution.
Do your customers care whether your organisation uses an ERP or a CRM solution? Whether you deploy on-premise or in the cloud? Let's be honest: most of today's modern customers aren't interested in the behind the scenes in your business. They simply want the ideal product or service – and proactive support in case something goes wrong.
In other words, they don't want to be bothered by information islands, complex systems or internal silos. Microsoft helps organisations to put their customers first by offering them an unprecedented end-to-end intelligent platform that includes all the modern applications you can think of – and more.
Microsoft is one of the very few companies on the globe that combines a strong market position with a consistently strong financial performance and a continuous pursuit of further innovation. A strategic selection of Microsoft and the Dynamics 365 platform is a choice for nonstop innovation that serve your organisation for years.
Are you interested in learning more about Microsoft Dynamics 365 Business Solutions? Please call us today at 01372 282640.
RECENT POSTS
admin
For companies trying to keep up with the latest technological developments, it can be challenging to determine when it's time to switch and embrace new software systems. Is your organisation ready for this [...]
admin
What is 'failure' in an ERP project? According to PROSCI, a global leader in change management, it can mean being unsuccessful in achieving your goals, neglecting to do something or ceasing to work [...]
admin
Proposals are the first legal documents in an average selection process. These documents give you insights into your out-of-pocket costs for the various aspects of an ERP implementation. Proposals also give you indications [...]