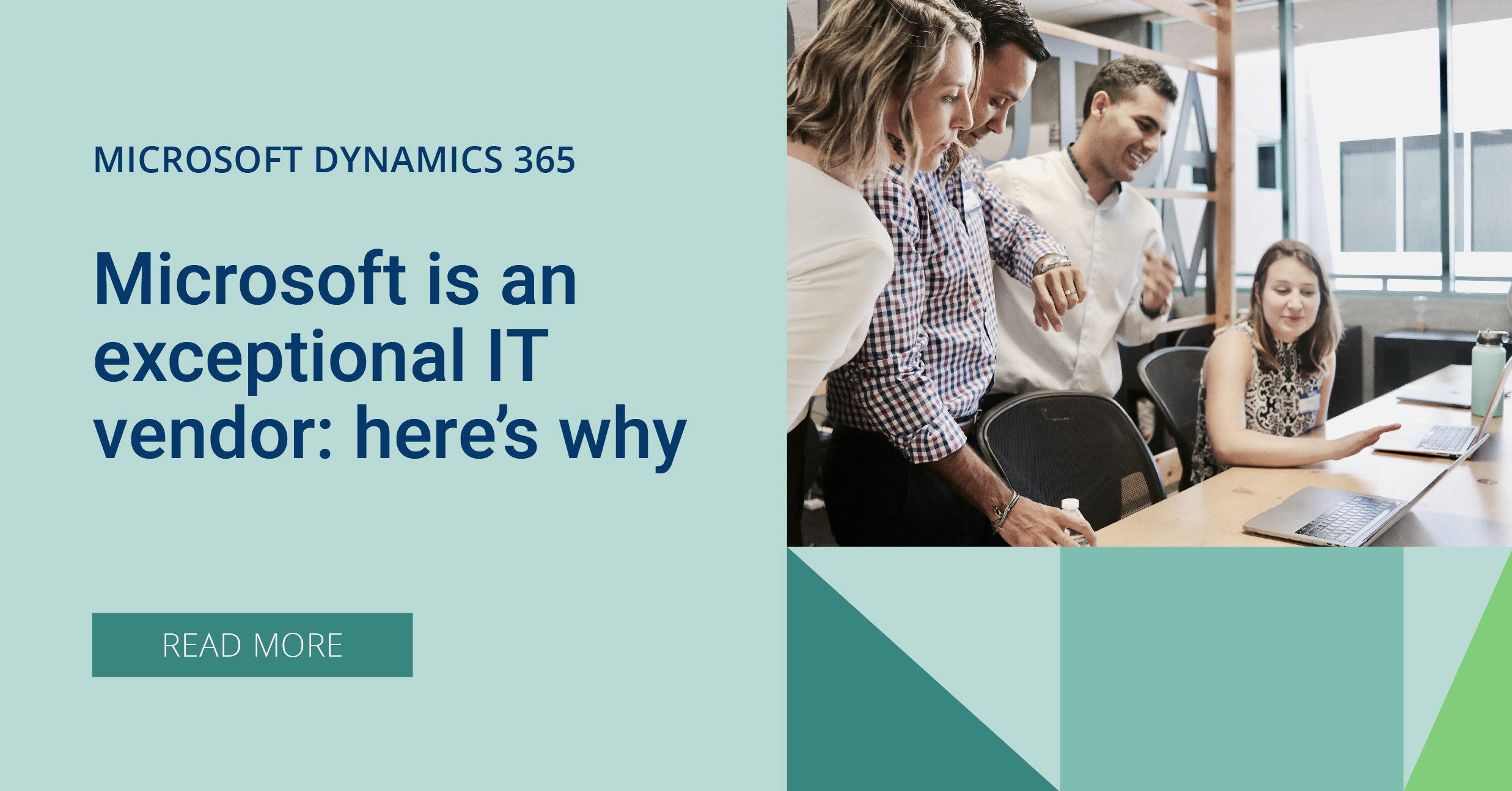 Microsoft is an exceptional IT vendor: here's why
If the COVID-19 crisis has taught us anything, it's that the level and quality of your IT function has a huge impact on the resilience of your organisation and the robustness of your business processes. It can even affect your chances of survival.
The most important question to ask is the following: are you are working with the right strategic IT vendor for your organisation? Is your current vendor able to survive another unexpected international crisis? And if so, are they financially strong enough to continue investing in the ongoing innovation of their products and services?
Back in 2013, Microsoft was widely regarded as an old-school IT vendor. They were a big vendor with a strong position and a large customer base, but they were also known for being a slow organisation that often lagged when responding to changing market demands. Despite their huge annual investments in research and development (R&D), they were an organisation that was not very effective in creating innovative products and services.
The following year, everything changed for Microsoft. The appointment of Satya Nadella in 2014 as the new CEO turned out to be the beginning of radical change within the company. On the product side, he introduced the 'cloud-first, mobile-first' strategy that was considered very progressive in those days.
But perhaps Nadella's best contribution was in the domain of company culture: he challenged the entire organisation to move from a 'know-it-all' to a 'learn-it-all' culture. Nadella's leadership was effective in the demolition of internal silos, and he was a strong promotor of a better co-operation between departments. Nadella truly established a growth mindset within Microsoft.
The first results of these efforts were quickly visible when the declared choice for a cloud-first strategy created a huge growth in cloud revenue. A cloud-first strategy is when an organisation makes the decision to consider cloud-based solutions first when developing or modifying practices and processes. In a cloud-first strategy, a business will only look at other solutions when all cloud-based options have been exhausted.
Lucrative collaboration deals were signed with former sworn competitors, including SAP, Salesforce and Apple. And many of the 'single-category products' became gradually part of their attractive intelligent cloud platform.
Revenue and profit grew impressively, and that made for happy shareholders. When Nadella took over as CEO, Microsoft's market cap grew from $300 billion to $1.75 trillion – that's almost sixfold growth in just 8 years. That's an unprecedented achievement.
Today, Microsoft is widely perceived as a true leader in Digital Transformation. The company's mission is to empower every person and every organization on the planet to achieve more. At the end of the day, isn't that what IT is meant to do?
Microsoft is still the undisputed industry leader when it comes to investments in R&D, but they also have the audacity to act quickly when it comes to acquiring valuable pieces of technology. Innovations are quickly brought to the market, strengthening the powerful Microsoft intelligent cloud platform.
One current example of product development is the launch of Microsoft Viva, an integrated employee experience solution. Another one is the recent acquisition of Artificial speech tech business Nuance Healthcare for almost $20 billion, making for the second largest acquisition in the company's history.
If you are looking for a strong, reliable and innovative IT vendor that can successfully help you to digitally transform your business, then Microsoft Dynamics 365 Business Central should be at the top of your list of considerations.
Calling Brookland Solutions today can be your first step in this important process. Get in touch: 01372 282640.
RECENT POSTS
admin
Starting on January 1, 2023, Microsoft gave European companies and governments the option to only store their data on data servers in Europe. Until recently, this often happened in other regions such [...]
admin
2022 was another great business year for Microsoft. And as a direct consequence, that made last year also a good one for their customers and partners. Despite the economic and social turmoil [...]
admin
It is generally known that the proper implementation of new ERP or CRM software is not an easy task. More and more often, organisations realize that implementing software is so much more [...]