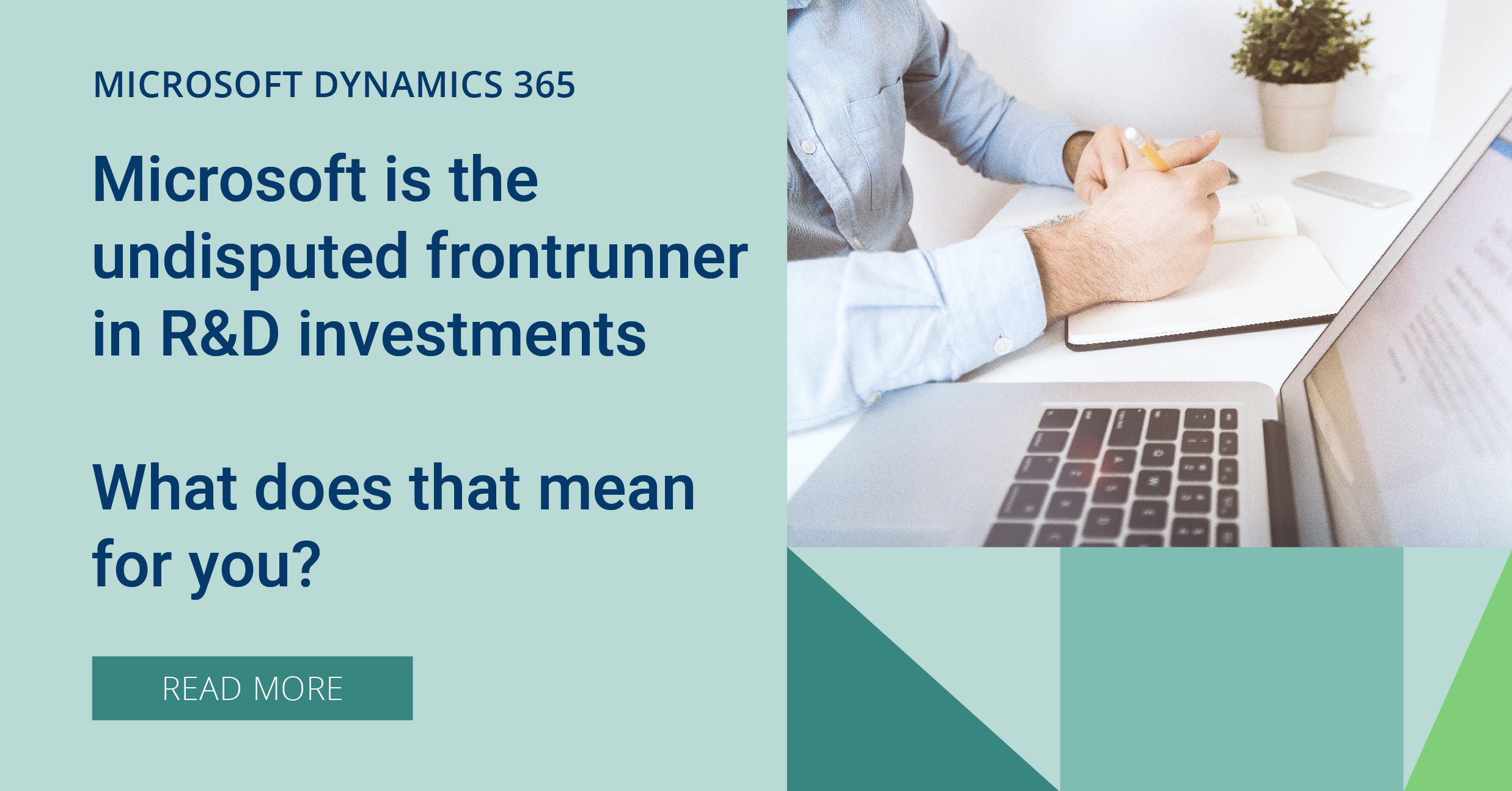 Microsoft is the undisputed frontrunner in R&D investments – what does that mean for you?
In their last fiscal year – ending June 30th, 2022 – Microsoft spent $ 24.5 billion on Research and Development. That represented an increase of 18.32% compared to the previous fiscal year. These year-over-year investments makes Microsoft the undisputed frontrunner in the IT industry.
The company can only afford these huge expenses because of their long-term strong financial performance, their broad product portfolio and their successful distribution strategy. This is important for all current and future Microsoft customers since we are on the brink of an era with almost unlimited IT possibilities. Today we can already see that cloud technology stimulates further innovation in domains such as artificial intelligence, low-code development, machine learning, robotic process automation and virtual reality – all at an unprecedented pace, and we can only imagine what's coming next.
The current innovation in the IT industry is happening at a pace we've never seen before. This is asking the utmost of those ERP and CRM vendors that have the ambition to stay ahead of the curve. Generous R&D budgets are a basic requirement to be a serious participant in this race. But vendors also need development capacity and smart people – plus knowledge and experience in a growing number of domains.
After all, there is no single organisation that can automate everything with just one application. This means that the traditional vendors of 'single category solutions' such as ERP or CRM now have the ultimate challenge to expand their offerings to other application areas. Microsoft has the skills, the experience and the solutions to create and expand a so-called 'end-to-end' platform that helps organisations all over the world to achieve more.
If you're not yet a Microsoft ERP or CRM customer, it might be smart to ask your vendor what their current R&D budget is. Then, assess whether that effort is sufficient to remain structurally ahead in terms of innovation. Is this a vendor you want to stick with in the long term?
The investments that software vendors can afford to spend in the coming years depend heavily on the size of their operation and the growth of their revenue and profits. Do you feel comfortable with the growth of your current vendor, the size of their customer base and the breadth and depth of their distribution channels?
Microsoft offers their current and future customers a wealth of modern applications that are all integrated in their intelligent cloud platform. Selecting Microsoft as your future ERP vendor is probably the safest choice you can make when it comes to long-term continuity and ongoing innovation.
Ready for a new ERP system?
RECENT POSTS
admin
For companies trying to keep up with the latest technological developments, it can be challenging to determine when it's time to switch and embrace new software systems. Is your organisation ready for this [...]
admin
What is 'failure' in an ERP project? According to PROSCI, a global leader in change management, it can mean being unsuccessful in achieving your goals, neglecting to do something or ceasing to work [...]
admin
Proposals are the first legal documents in an average selection process. These documents give you insights into your out-of-pocket costs for the various aspects of an ERP implementation. Proposals also give you indications [...]