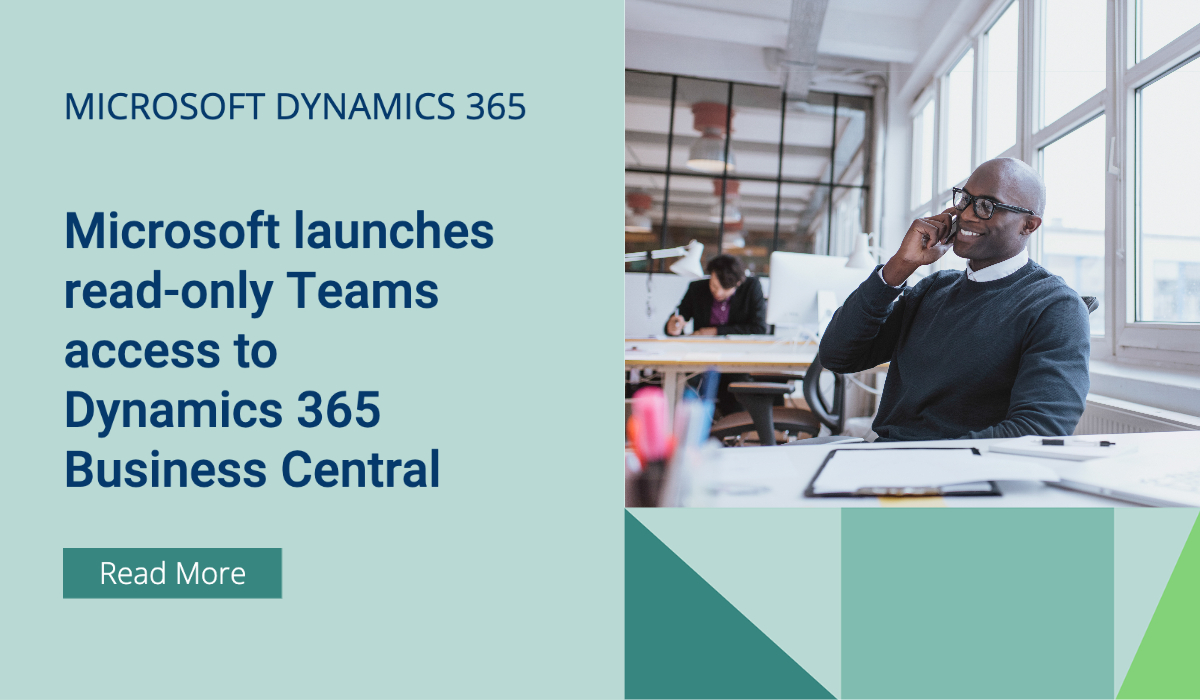 Microsoft launches read-only Teams access to Dynamics 365 Business Central
Microsoft is continuously working hard on improving its intelligent cloud platform by further integrating its specific solutions. After all, in today's business world, customers expect every customer-facing employee to have a 360-degree view of their activities and status. This is a huge challenge for many organisations when working from their offices. 
It's an even bigger challenge when working from a home office! This means that integrating business applications with collaboration tools is of great importance in the coming years. Microsoft recently decided to add several new Teams touchpoints to their Dynamics 365 applications. 
Microsoft has opened a new avenue of read-only access to Dynamics 365 Business Central data, launching its Teams interface for Microsoft 365 users without an ERP license. "We have made it possible for a user in Microsoft Teams to access Business Central records without a Business Central license," Microsoft explained at Directions EMEA 2022 in Hamburg. Those new users, who are licensed only for Microsoft 365, will get a special read-only view of the ERP data, shared with them in a Teams chat or channel by a licensed Business Central user, with specific limits on the type and format of the information they see.
Read-only Teams access is designed to give people specific views of data, such as a particular segment of purchase orders or item data. Permissions are critical when preparing for new read-only Teams users to begin viewing Business Central data since they determine which records these users can access. Not only does this save time and improve collaboration throughout the day, but it also frees up time so you can stay focused on customers and accelerate productivity.
While this removes boundaries for collaboration and encourages users to share data with confidence, it also allows administrators to unlock data across the organization so departments that don't yet use Business Central can self-serve with the data they need to complete their tasks.
Customers who have updated to Business Central Online version 21.1 – which became available in early November 2022 – can enable the feature. Once available, admins can begin planning for the types of data and views that they want to make available via Teams chat or specific channels. This helps your organisation and staff to improve your view of customer status and activities, contributing to a higher customer satisfaction rate.
The introduction of Microsoft 365 read-only users of Business Central data in Teams now broadens the full range of possibilities for Business Central user experiences. Microsoft also offers a Business Central Team Member license, which provides full User Interface access, full read access, limited write access, and no access at all to manufacturing or service order management. The typical Business Central Premium and Essentials licenses already provide full access options, though with access to extra modules for Premium. ​​​​
An interesting observation is that this new functionality will only be available for Microsoft's cloud ERP solution for SMB, Business Central. It will not be available for Dynamics NAV on-premise. Might this be another good reason for you to consider an upgrade to Microsoft Business Central?
RECENT POSTS
admin
For companies trying to keep up with the latest technological developments, it can be challenging to determine when it's time to switch and embrace new software systems. Is your organisation ready for this [...]
admin
What is 'failure' in an ERP project? According to PROSCI, a global leader in change management, it can mean being unsuccessful in achieving your goals, neglecting to do something or ceasing to work [...]
admin
Proposals are the first legal documents in an average selection process. These documents give you insights into your out-of-pocket costs for the various aspects of an ERP implementation. Proposals also give you indications [...]