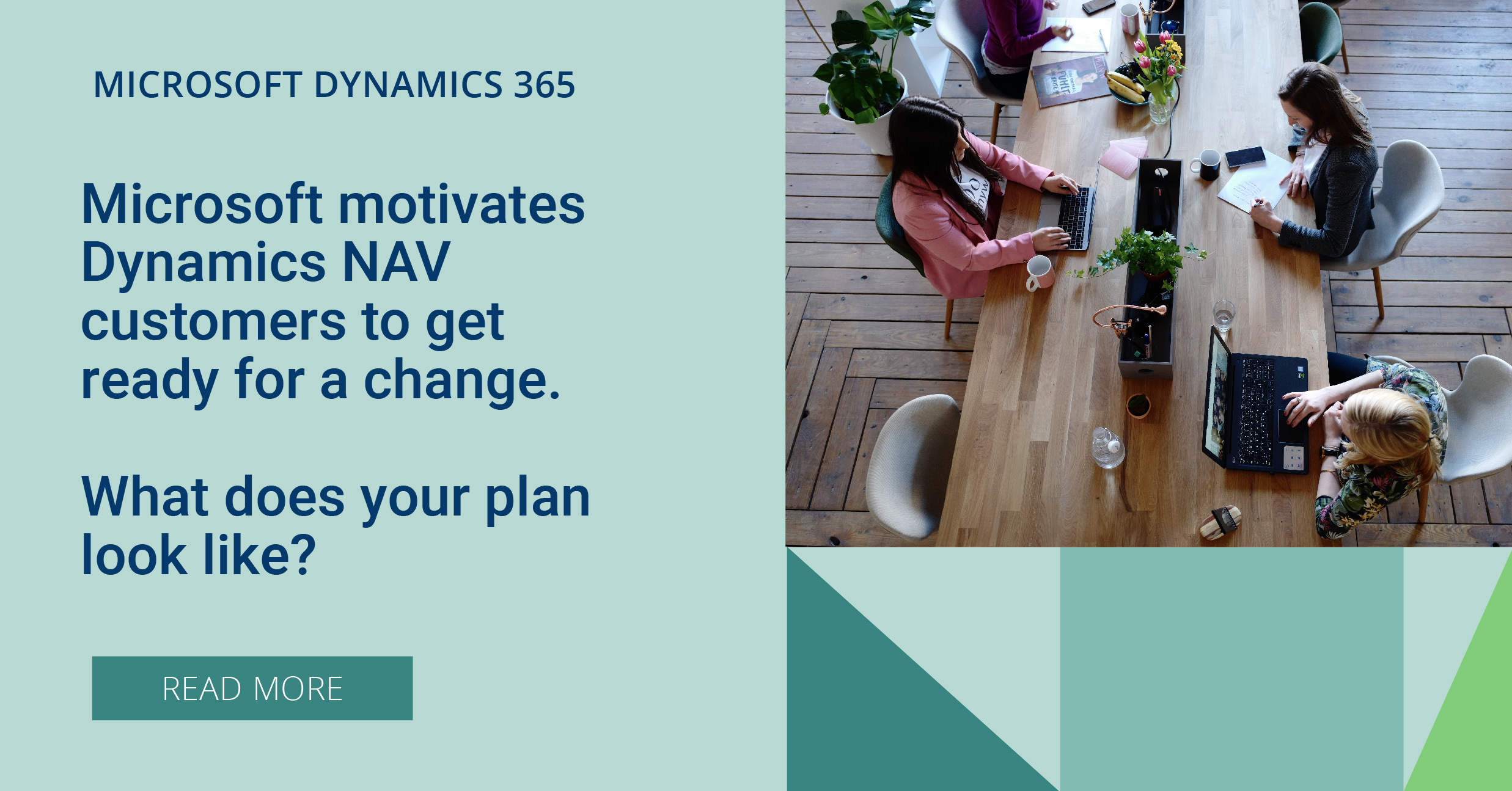 Microsoft motivates Dynamics NAV customers to get ready for a change. What does your plan look like?
Microsoft Dynamics NAV has been in use on the international markets for over 25 years now. This solution originated in the early 1990s as the flagship product of the Danish company Navision Software. Microsoft acquired that company in 2002 and rebranded the solution to Microsoft Dynamics NAV. 
With the effort of thousands of implementation partners, and by using their worldwide distribution channels, Dynamics NAV became the market leader in the ERP market for SMBs. In 2018, Microsoft announced the successor to Dynamics NAV: Dynamics 365 Business Central. It now appears that Microsoft wants to motivate its Dynamics NAV customers to get ready for a change. 
Technologies evolve at a fast pace, and Microsoft must constantly weigh the interests between innovation and the support of existing versions. That applies to operating systems such as Windows 95 and 98 and to ERP solutions as well. That truly is a balancing act.
 Microsoft's general manager for Dynamics 365 in SMB Mike Morton said that 'Microsoft is committed to continue the support on Dynamics NAV, to continue with new releases and to keep these products on the roadmap for as long as we can foresee. There is no secret plan to stop releasing new on-premise versions.
If you are a Dynamics NAV user, that should be comforting news. Yet we see signs that Microsoft is slowly but surely trying to motivate Dynamics NAV users to prepare for an upgrade. Here are some of these observations: 
limiting the possibilities to further expand on existing Dynamics NAV systems

phasing out mainstream support on older versions of Dynamics NAV

the implementation of price increases 
For the first time in years, Microsoft has announced a series of pricing changes for Dynamics NAV. From October 1st, 2022, customers with an annual maintenance contract for Dynamics NAV or Business Central on-premise will pay 17 percent of their license value, rather than the current 16 percent. 
Microsoft have also released a new initiative called Universal Code, starting January 1 2023. This initiative is to make sure that all customers are working towards having a cloud-ready system, even if they do not yet feel ready to make this leap. Any on-premise upgrades to Business Central will need to ensure that existing customisations are migrated to extensions which are optimised for use with the cloud offering. During an upgrade, we would advise the functionality that falls outside of the Universal Code initiative and provide solutions to bring it back in line.
If the decision is made to keep current customizations which are not available through extensions and are not optimized for the cloud, then you might pay up to $425 per user license, per year starting in 2025. These costs are in addition to the existing maintenance costs.
Fortunately, not all costs increase! Microsoft makes your switch to Business Central now extra attractive by offering a whopping 60 percent discount on the standard subscription costs. 
If you are preparing to make a change to Dynamics 365 Business Central, this might be the right time to act. By contacting us today, you will be taking the first step towards this change. 
RECENT POSTS
admin
For companies trying to keep up with the latest technological developments, it can be challenging to determine when it's time to switch and embrace new software systems. Is your organisation ready for this [...]
admin
What is 'failure' in an ERP project? According to PROSCI, a global leader in change management, it can mean being unsuccessful in achieving your goals, neglecting to do something or ceasing to work [...]
admin
Proposals are the first legal documents in an average selection process. These documents give you insights into your out-of-pocket costs for the various aspects of an ERP implementation. Proposals also give you indications [...]