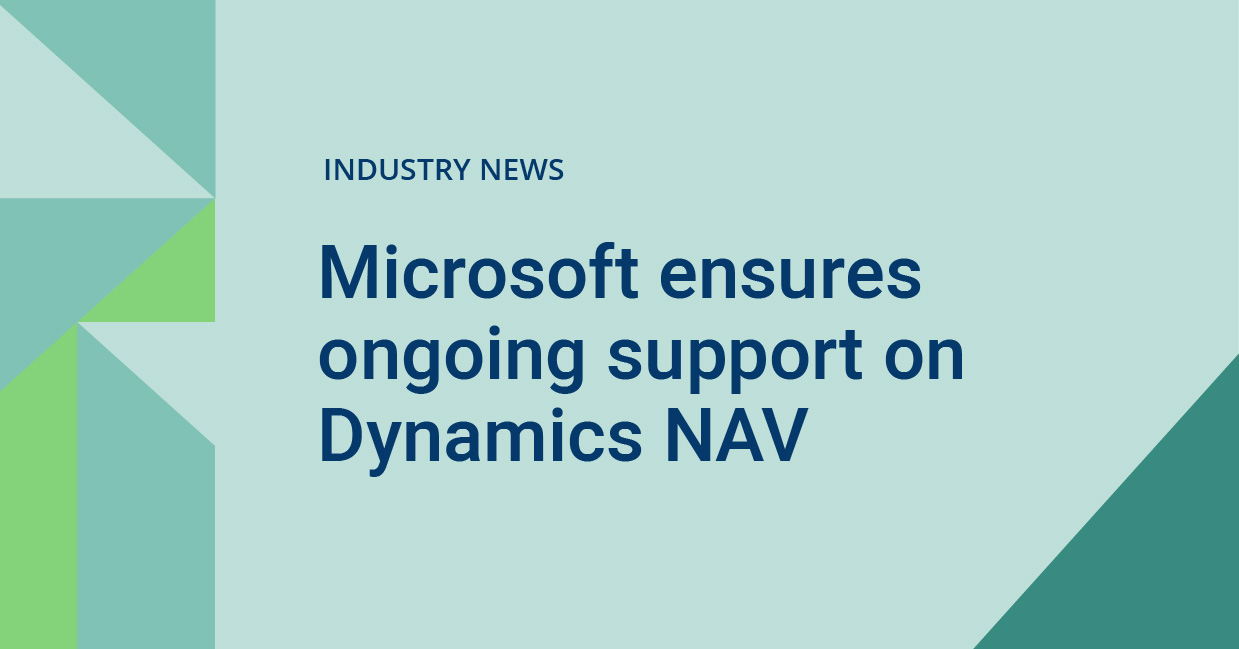 Microsoft's Mike Morton: "We are committed to continue the ongoing support on Dynamics NAV"
In 2016, Microsoft announced the successor of Navision or Dynamics NAV – its traditional, on-premise based ERP solution for the mid-market.
After some start-up problems with branding and positioning, the company today has a super strong, cloud-based ERP solution for small and medium business: Microsoft Dynamics 365 Business Central. Which raises an important question for the tens of thousands of organisations around the world that still use Dynamics NAV: what support they can expect in the near future?
To give you insights in this topic, we have summarised a recent interview with Mike Morton, general manager for Dynamics NAV and D365 Business Central at Microsoft Corp.
Spending budgets on business software typically qualifies as long-term investments. After all, companies do not just buy and implement an ERP or CRM solution for just a few weeks or months. For exactly the same reason, you need to understand what the outlook is on future support, how long you can count on that support, and what the best scenarios are for a transformation to Dynamics 365 Business Central in the near future.
These are the most important messages that Mike Morton shared in that interview with QBS Group on March 4th 2021*:
"Microsoft is publishing an overview of the support and lifecycle policies on all their products, including Dynamics NAV on an ongoing basis. You can find that information here: Microsoft Lifecycle Policy | Microsoft Docs"
"Microsoft is committed to continue the support on Dynamics NAV, to continue with new releases and to keep these products on the roadmap for as long as we can foresee. There is no secret plan to stop releasing new on-premise versions"
"We want to align our on-premise product and our cloud product as much as possible, but there will also be innovations that are cloud only. An example is the integration with Teams, that is only part of the cloud offering and not of the on-premise offering"
"We expect that the vast majority of innovation and the new capabilities will be at the cloud product. So, we do want to encourage every Dynamics NAV customer to migrate to Business Central. We believe that the cloud product gives the best experience for our customers and is the most cost-effective scenario in the long term"
In short, the good news for all Dynamics NAV customers is that the support will continue, and there will also be new versions available. However, the real innovation is expected in Business Central, as that product line is Microsoft's strategic offering for the mid-market. So it makes sense for every Dynamics NAV customer to design a scenario for migration anyway.
If you are running Dynamics NAV today and you are not yet ready for a migration to D365 Business Central, one of the best things you can do as a short-term strategy is to upgrade to the latest version of Dynamics NAV to secure this support for the years to come.
As well as supporting your current Dynamics NAV system, Brookland Solutions can work with you to plan, prepare for and execute an upgrade to Dynamics 365 Business Central. We understand the financial and time commitments required for an upgrade. For that reason, we work with you to establish a realistic and achievable time-frame for your upgrade. We will happily support your version of Dynamics NAV until you are absolutely ready to upgrade to Dynamics 365 Business Central
*The complete interview can be found here.
RECENT POSTS
admin
For companies trying to keep up with the latest technological developments, it can be challenging to determine when it's time to switch and embrace new software systems. Is your organisation ready for this [...]
admin
What is 'failure' in an ERP project? According to PROSCI, a global leader in change management, it can mean being unsuccessful in achieving your goals, neglecting to do something or ceasing to work [...]
admin
Proposals are the first legal documents in an average selection process. These documents give you insights into your out-of-pocket costs for the various aspects of an ERP implementation. Proposals also give you indications [...]