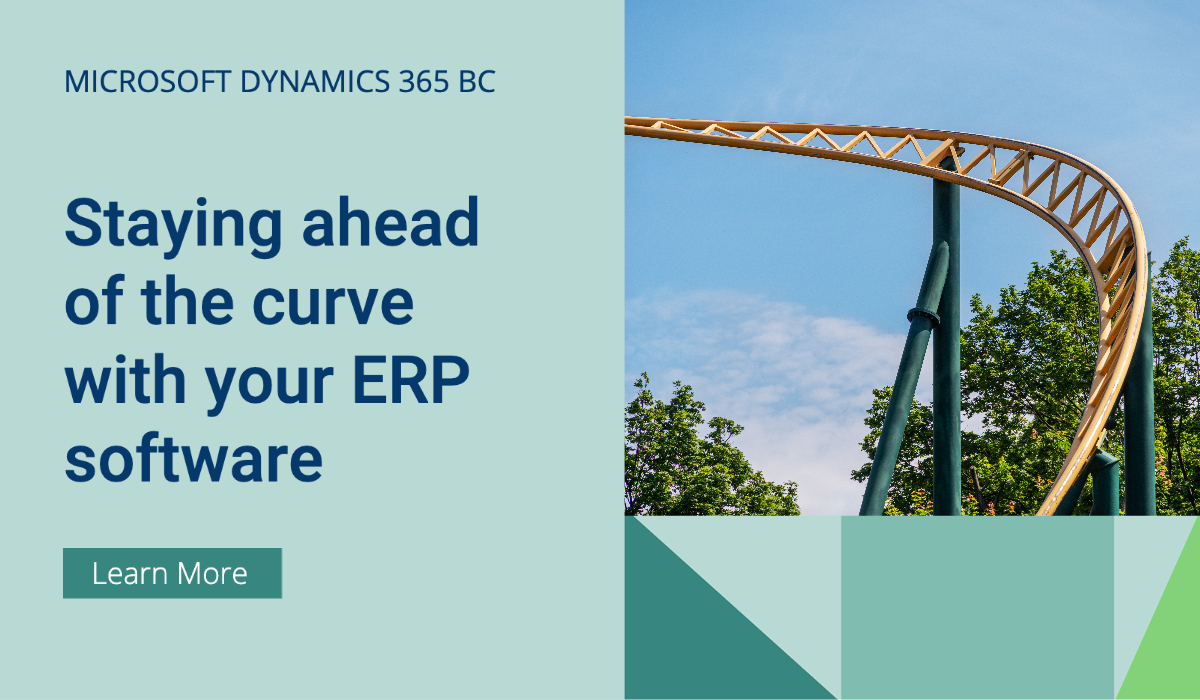 Staying ahead of the curve with your ERP software
Many organisations around the globe find themselves on the threshold of the cloud era these days. Often they have already migrated some of their applications to the cloud, such as productivity tools. However, many are still hesitant to migrate their core ERP and CRM applications. 
After all, these are the systems that automate their primary processes. Of course, looking closely at aspects such as security, data access and costs is important. But where do you think you can expect real innovation in the years to come? Will it be with Microsoft Dynamics NAV or Dynamics 365 BC?
Microsoft Dynamics 365 Business Central has been available for a number of years now, and this cloud ERP solution for small and medium businesses is doing very well. The number of users is growing rapidly, and so is the number of available localisations and partners selling BC. Microsoft's 'IKEA-like' approach with an extensive offering of add on's via the AppSource marketplace helps customers to implement BC quickly, inexpensively and efficiently.   
So what's the next best step is for you as an on-premise Dynamics NAV user? Is it smart to continue the use of your trusted NAV solution for a few more years? Or is it better to prepare yourself for a switch to Business Central? 
An important but often underrated argument is the innovation you can expect from your ERP solution provider. While Microsoft once claimed that NAV and BC would remain on par in terms of functionality, it's clear that this is no longer the case. This makes sense because cloud technology makes things possible that simply cannot be done in an on-premise environment. Just think of all the recent innovations around Artificial Intelligence and ChatGPT!
A suitable metaphor between on-premise and cloud is the comparison between a landline phone and a mobile phone. You can make phone calls with both. And although the concept of the fixed telephone is old, this model will continue to function for a long time. The question is: where have you seen the biggest innovations in telephones in the last 5 years? Where do you expect to see the biggest changes in the next 5 years?  
It is obvious: the cloud is where ERP vendors – including Microsoft – spend their R&D budgets. This means that you should expect a continuous flow of innovations in Business Central, while NAV continues to do what it always has done. 
If you're active in an industry where innovation is of great importance for winning and retaining customers, you would do well to benefit from continuous innovation in BC.
Interested in discussing the matter further? Then get in touch today. 
RECENT POSTS
admin
For companies trying to keep up with the latest technological developments, it can be challenging to determine when it's time to switch and embrace new software systems. Is your organisation ready for this [...]
admin
What is 'failure' in an ERP project? According to PROSCI, a global leader in change management, it can mean being unsuccessful in achieving your goals, neglecting to do something or ceasing to work [...]
admin
Proposals are the first legal documents in an average selection process. These documents give you insights into your out-of-pocket costs for the various aspects of an ERP implementation. Proposals also give you indications [...]