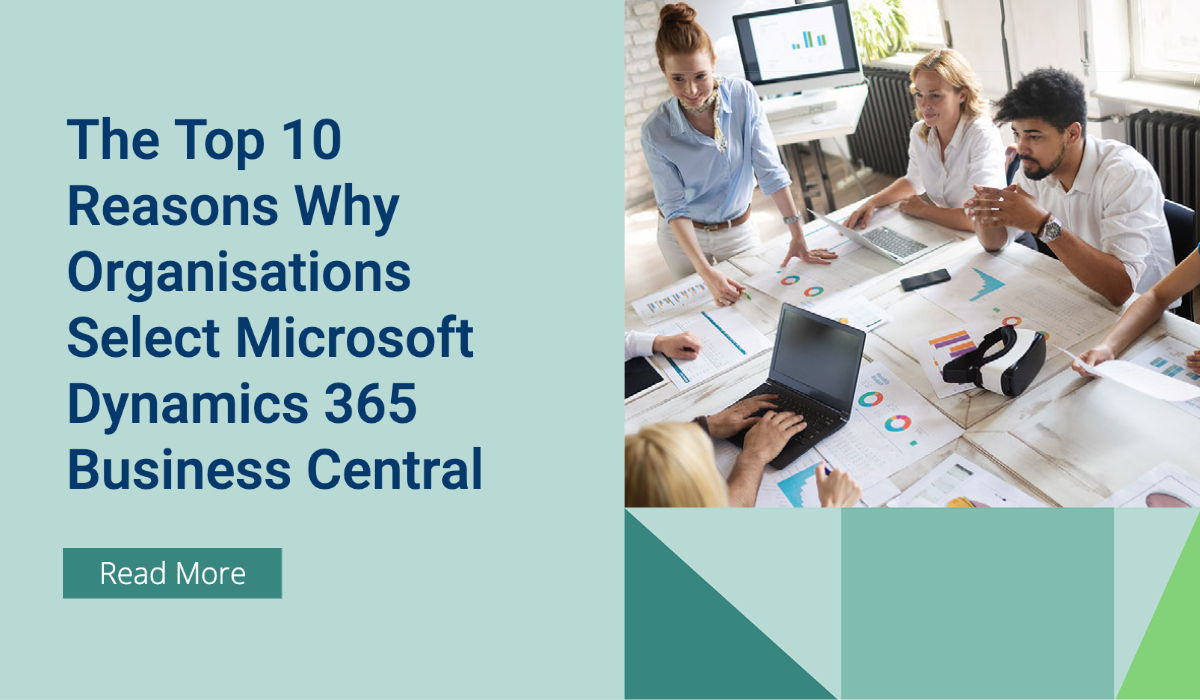 The Top 10 Reasons Why Organisations Select Microsoft Dynamics 365 Business Central
The selection of a new ERP solution is anything but easy! There are an overwhelming number of options, and many ERP solutions have a lot in common. Once you've made a choice, it can be difficult and expensive to change your ERP.
That's why it's of vital importance to do your research carefully and completely. While every organisation will prioritise their needs and wishes differently, these 10 reasons are commonly popular in selection processes that result in a choice for Microsoft Dynamics 365 Business Central (D365 BC).
1. A complete and modern solution
In many organisations, the information system still looks like a kind of 'patchwork'. Oftentimes there are simply (too) many applications, many of which are poorly integrated or not integrated at all. Each has a different user interface and different content definitions – all supporting your business processes in a different way.
This often leads to poor use, manual inputs, more mistakes and multiple versions of the truth. Companies around the world select D365 BC because it is a complete and modern solution that offers full integration of accounting, manufacturing, projects and customers.
2. Large numbers of users with continuous growth
D365 BC and its predecessor Dynamics NAV (also known as Navision) together have more than 180,000 customers all over the world. D365 BC is the successor of Dynamics NAV and it's a solution that's growing very fast. Four years after the first release, there already are more than 30,000 organisations using D365 BC.
That number currently grows by a spectacular 60% year after year. One of the main reasons organisations select D365 BC is because it is a solution that wins the trust of large numbers of customers – and that fuels the continuous innovation and further growth of the solution.
3. Innovation that never stops
The extent to which an ERP vendor is innovative mainly depends on financial possibilities, skills, domain knowledge and dedication. Microsoft is the industry leader when it comes to the size of their Research & Development budgets. In their last fiscal year, the company spent $ 24.5 billion on R&D.
On top of that, Microsoft has extensive skill sets and expertise in a variety of domains, from ERP and Artificial Intelligence to machine learning and employee productivity and from data analytics and CRM to Infrastructure as a Service. A choice for D365 BC is a choice for a stream of innovation that never stops.
4. The flexibility of the solution
Traditional ERP solutions were well known for their inflexibility. And some of them still are! Once implemented, it's hard to change these solutions. And if you decide to change, it's complex, expensive and time-consuming, which is not really a great concept in today's fast-changing business world.
D365 BC is well-known for its flexibility: the solution is easy to adapt. It is often based on parameters, so that customisations can be avoided. That's good news for the D365 BC implementation partners who are able to develop great add-ons for the specific needs of sectors and industries. And customers can do a lot of this work themselves, which limits your dependency.
5. The international availability
Today's business world is borderless. Even small organisations grab the opportunity to do business across borders. This development makes the international availability of your ERP solution of choice a crucial consideration. Think about language and currency, but also compliance with the local customs and accounting rules.
D365 BC is available today as a fully localized version for over 100 different countries around the globe – more than any other ERP vendor offers. Together, these countries cover 80% of the worldwide GDP. A choice for D365 BC means the freedom to do business internationally.
6. The international partner network
Having localized software versions in so many countries around the world is, of course, great. But as a customer, you also need local BC skills and implementation capacity, as well as local support. Preferably, support will be available in your own time zone, spoken in your own language and with people that understand your local culture and behaviour.
Microsoft has an extensive network of 4,000 certified implementation partners worldwide. These partners are active in every country where the company delivers their localised versions of D365 BC. This ensures you the best on-site support!
7. The availability of a detailed roadmap
Offering a great ERP solution to the market today is one thing, but making sure that this solution is constantly being adapted and improved is certainly also of great importance! After all, you want to work with your new ERP solution for long years. Microsoft provides detailed roadmaps for D365 BC and shares this information on a publicly accessible website.
On this site, you can see the functional and technical improvement plans for the upcoming versions. But you also have access to the availability and localization per country, as well as the availability of support and maintenance per software version. Everything is clear, and always up-to-date.
8. Tight integration with other Microsoft products
As we're all aware, no ERP solution is an island. After all, ERP data is relevant for many other applications in your organisation. Microsoft recognized this in good time and made their Dynamics 365 solutions the central part of the company's intelligent cloud platform.
D365 BC is strongly integrated with the popular Office 365 application, which includes important end-user apps such as Outlook, SharePoint and Teams. But there is also tight integration with Microsoft solutions like D365 Customer Engagement/CRM, Power BI, Azure, Power Apps, portals and dashboards. Microsoft is committed to further expanding this platform approach.
9. A popular and well-known User Interface
One of the most important parts of an ERP solution is the user interface (UI). That makes sense, since accessibility and user-friendliness determine the extent to which your end-users use the system (properly). The BC UI looks familiar to the Office365 suite and to popular products like Outlook and Excel, which is logical since both products are built by Microsoft.
Complete generations grew and continue to grow up with this UI in school and at university, so a choice for D365 BC leads to better end-user adoption while saving on your training budget – not just during your initial implementation but also during the use phase when you are hiring new staff.
10. The availability of 3,000 standard solutions
Traditionally, heavy customisations often led to big problems in ERP usage. Microsoft and their implementation partners decided to focus more on the benefits of standardization. The partners create add-ons or so-called 'extensions' that they can publish on AppSource, which is the app store for Dynamics 365.
Today there are already more than 3,000 different extensions available on AppSource for countless functions, markets and industries, all officially certified by Microsoft. For D365 BC customers, this is a great way to expand functionality while avoiding customizations. Add-ons do that quickly, cheaply and with low risk.
When making a choice for a new ERP solution, every organisation seeks security and business stability. This is logical because it concerns large and long-term investments: you would most like want to use the new solution for the next 10 years or so.
Microsoft is the biggest IT vendor in the world, and the undisputed number one when it comes to Research & Development efforts. Microsoft has a clear ambition to make D365 BC the best ERP solution in the world for small and medium businesses. Many customers love this drive to invest and improve continuously – and to ensure continuity.
If you would like to discuss moving to Business Central or getting more support for your Dynamics NAV, we would love to help you take your business to the next level. Please fill out your details and we'll be in touch soon.
RECENT POSTS
admin
In today's fast-changing world, it's a bad business strategy to use outdated IT tools. If you go this route, how will your organisation manage to meet the ever-increasing demands of your customers? Earlier [...]
admin
For companies trying to keep up with the latest technological developments, it can be challenging to determine when it's time to switch and embrace new software systems. Is your organisation ready for this [...]
admin
What is 'failure' in an ERP project? According to PROSCI, a global leader in change management, it can mean being unsuccessful in achieving your goals, neglecting to do something or ceasing to work [...]