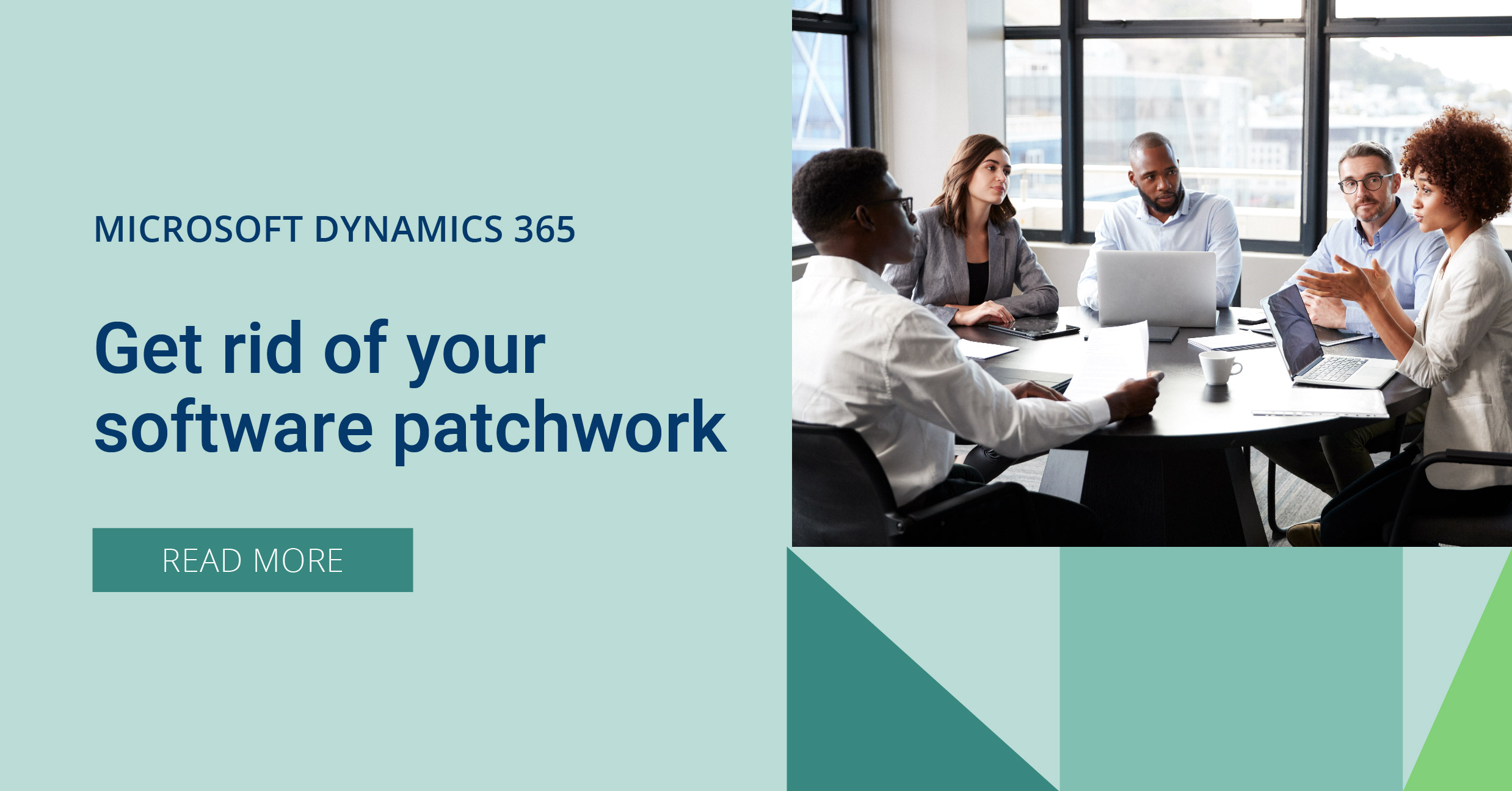 This is how Microsoft Dynamics Business Central can help you get rid of your patchwork
It is widely considered as one of the biggest obstacles on the way to become a real customer centric organisation. We're talking about the use of multiple independent software solutions in your organisation. Solutions that are often poorly integrated and that always have different user interfaces. This makes it a constant challenge for your end-users to perform their daily jobs when they must work within a number of these solutions. Even worse, it makes it almost impossible for them to turn their customers into happy customers.
A strategic question for many organisations these days is how to get rid of this patchwork of solutions, information islands and multiple versions of the truth. There is good news: The successful Microsoft Dynamics Business Central platform could be an ideal software upgrade for you and your organisation.
Recent research shows that small organisations have an average of 14.3 different software solutions, each storing individual customer data. Medium sized companies have a multiple of these 14.3 solutions, with larger organisations often having no clue at all how many different solutions they use.
Many organisations will use several different solutions per department, per business unit and/or per subsidiary. While there were possibly many solid reasons why these were required, it is easy to conclude that this myriad of software systems makes it difficult to increase internal efficiency. Substantial parts of your IT budgets must be spent for this patchwork to function. Not to mention the problems you face when you want to become a true customer-oriented organisation.
So, what options do you have if this is the status of your current IT landscape? Replacing 'stand-alone' parts of your patchwork with other similar parts will modernise that landscape, but it will not solve the basic problems. After all, even a modernised patchwork still remains a patchwork.
Some years ago, Microsoft strategically decided to integrate all of their single-category products like ERP, Office and BI tools into a platform approach. An approach in which the integration between applications greatly improved, a more generic user-interface was introduced and the ERP business application could now be used without leaving the familiar Office environment.
This platform approach allows you to implement various solutions and modules step by step. At your own pace. In this 'modernization journey', the Microsoft platform can function as a kind of 'North star'. Every time you replace a single building block from your current patchwork, you can make another step towards the completion of this platform. Each time decreasing the number of stand-alone or 'loosely' coupled applications.
That is good news for your colleagues and teams, but even better news for your current and future customers!
Interested to learn how Microsoft Dynamics Business Central can help you to get rid of your current patchwork? Then contact us on https://brooklandsolutions.com/contact-us/
RECENT POSTS
admin
In today's fast-changing world, it's a bad business strategy to use outdated IT tools. If you go this route, how will your organisation manage to meet the ever-increasing demands of your customers? Earlier [...]
admin
For companies trying to keep up with the latest technological developments, it can be challenging to determine when it's time to switch and embrace new software systems. Is your organisation ready for this [...]
admin
What is 'failure' in an ERP project? According to PROSCI, a global leader in change management, it can mean being unsuccessful in achieving your goals, neglecting to do something or ceasing to work [...]