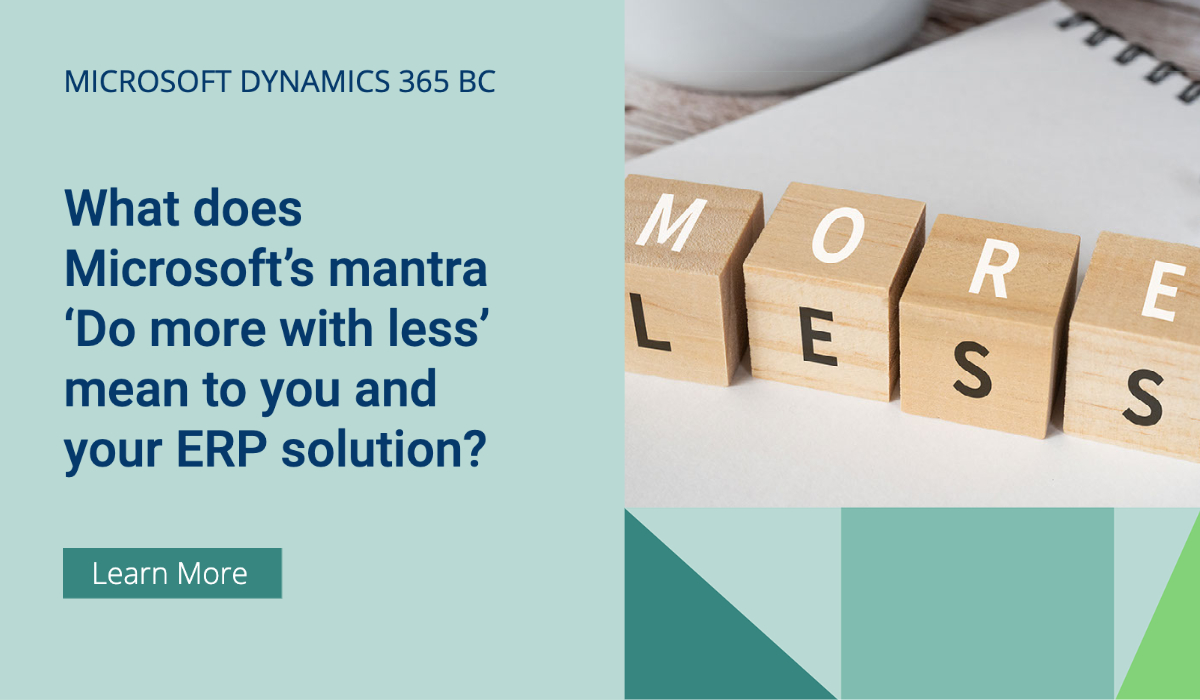 What does Microsoft's mantra 'Do more with less' mean to you and your ERP solution?
Amidst widespread uncertainty, organisations face pressure these days to profitably innovate and improve resilience. But they must do that for less money. Managers see themselves confronted with recession, inflation, energy costs and war. They've made "Do more with less" the order of the day across organisations of all sizes.
After two years of heavy investment, many businesses are reducing capital spending on technology and taking a closer look at IT outlays and ROI. What does this mean for your organisation? And how can you best do more with less?
At the end of 2022, Microsoft launched a new campaign theme in response to these global economic challenges: 'Do more with less'. In a message to partners and employees, Microsoft's CEO Satya Nadella said, 'You are the change agents who make doing more with less possible. Less time, less cost and less complexity. But with more innovation, more agility and more resilience. Doing less with more doesn't mean working harder and longer'.
Here are a few ideas on how you can do more with less in the Dynamics 365 ERP domain.
Moving from on-premise to the cloud 
The use of on-premise software includes many different cost categories. Some of them are difficult to trace; some are even poorly visible. In addition, many of these costs are unpredictable and therefore difficult to budget. Moving your ERP solution to the cloud means outsourcing the management and administration of the solution at a guaranteed quality level and fixed, predictable and lower total costs.
Switching from customisations to standard solutions
Customisations are among the most expensive parts of your ERP solution – in the purchase, the implementation and in constantly adapting to new wishes and new versions. Switching to the use of standard extensions or ISV solutions will help you limit your cost at a higher level of quality, documentation and support. This works for Dynamics 365 Business Central and also other Microsoft apps such as Teams, Excel and Outlook.
Remove exotic requirements from your list 
Preventing additional and often unnecessary costs requires a certain level of self-control when drawing up the requirements and wishes packages. If you manage to avoid any exotic requirements, you'll benefit from lower costs, less project risk and a shorter lead time to go live.
As a current or future user of Microsoft Dynamics 365 Business Central, you can do much more with less when you make the most of the standard solution, increase automation and take advantage of the many extensions that are available out of the box.
Interested in understanding what that could look like for your organisation? Then get in touch: https://www.brooklandsolutions.com/contact/
RECENT POSTS
admin
For companies trying to keep up with the latest technological developments, it can be challenging to determine when it's time to switch and embrace new software systems. Is your organisation ready for this [...]
admin
What is 'failure' in an ERP project? According to PROSCI, a global leader in change management, it can mean being unsuccessful in achieving your goals, neglecting to do something or ceasing to work [...]
admin
Proposals are the first legal documents in an average selection process. These documents give you insights into your out-of-pocket costs for the various aspects of an ERP implementation. Proposals also give you indications [...]